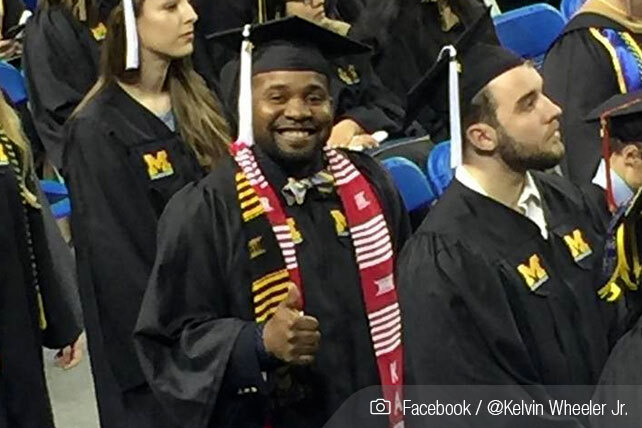 Kelvin Wheeler, Jr., a father, seminary student, and school administrator, was fatally shot at Livernois and Ewald Circle in Detroit last week. The 34-year-old was the dean of students at Triumph Middle School in Harper Woods (a suburban city that borders Detroit) and is remembered as someone who oriented his life around helping others. 
"I never met a person who didn't remember him," Wheeler's pastor, Rev. Steve Bland of Liberty Temple Baptist Church, told The Detroit News. "He was a very memorable person, which makes it real strange to me why someone would want to kill him. I never knew him to have any enemies."
Harper Woods Dean of Students Shot at Traffic Light
On July 8 at approximately 11:40 p.m., Wheeler and his girlfriend were stopped at a red light when a man approached their vehicle on foot and shot Wheeler multiple times through the front windshield. The suspect then got into an older model gray sedan and fled. Wheeler was pronounced dead at the scene.
Bland said that Wheeler's girlfriend was able to describe the suspect to police, adding, "She's still in shock, and I'm working on getting her some psychological support. I got to her hours after it happened, and she was still covered in blood. There's no way you can experience something like that and not be hurt by it." 
The reverend theorized the shooter killed Wheeler by mistake. "He had bought that Jeep from someone about a year ago," said Bland, "and it had tinted windows, so maybe (the gunman) didn't see him." Police are still investigating the incident and have not made any arrests at this time.
Wheeler's Murder Devastates Community 
In addition to being a school official in Harper Woods, Kelvin Wheeler, Jr., was a graduate of the University of Michigan and a member of the Kappa Alpha Psi fraternity. He was continuing to further his education by pursuing a master's degree in counseling from Ashland Theological Seminary. 
Wheeler also owned multiple properties in the area and was active in his local church. Said Bland, "He was a minister in my church, and I was preparing him for ordination…He was training as my youth pastor and he was big on trying to get others to find someone they could help."
But out of his many accomplishments, Wheeler saw being a father to his eight-year-old son, Kelvin III, as his greatest. "The greatest title I will ever be the most proud of is being a dad," he said in a Facebook post on Father's Day. 
Wheeler's mother, Rose Anderson, told the Detroit Free Press (DFP) that after Wheeler's passing, her grandson asked her, "Who is going to take me to basketball or football practice? Who is going to pray with me?" She responded, "I don't know baby. I don't know. But it's going to be okay because you have your Grandma, your Mama, your Aunties." For her part, Anderson said, "It's hard. It's so hard…it's the most pain I have ever felt in my whole life. Lord help me."
Wheeler's father, Kelvin Wheeler, Sr., told Fox 2 News, "That wasn't only my son, that was my best friend." Elsewhere, he said, "I respected my son. I loved him. I don't know what I am going to do."
One of Wheeler's fraternity brothers told DFP, "This was senseless. He didn't deserve to die like that…When a guy like Kelvin, who is the pillar of your community doesn't reach 35, and is a father…that affects the Black community. This was a good brother. And his killer needs to be brought to justice."
In a staff email announcing Wheeler's death, Harper Woods school officials said, "Mr. Kelvin Wheeler served our school and district family with dignity and distinction, enjoying the respect and admiration of parents, peers and students for the selfless time and energy he invested to contribute towards the success of each child. The light of his love will never be extinguished from our hearts."
Many have commented on Wheeler's Facebook page, expressing their condolences and their gratitude for his service in the community and the lives of their children. One said, "You touched so many people with your radiant personality. You allowed the light of the Lord to shine through you to brighten the path to Him. The hurt I feel is heavy, but knowing you reside with the Lord brings comfort." 
"He was a class act," said Rev. Bland. "I was preparing him to become a senior pastor at his own church. That was his dream, but he never got a chance to do that. But then again, he tended to pastor everyone he came around. So, maybe he was living his dream all along."