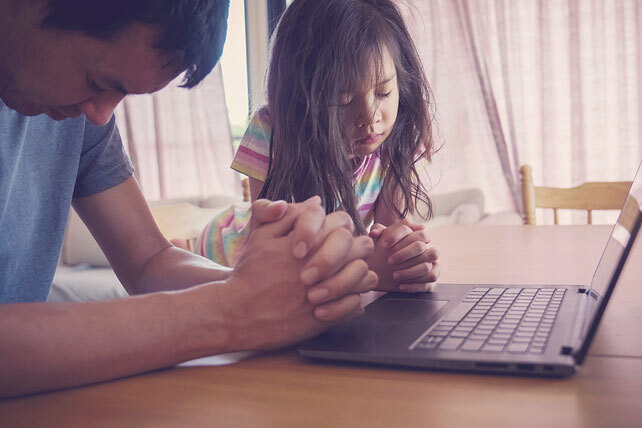 A recent study from Barna has surprised researchers by revealing that one in three practicing Christians stopped attending church after the COVID-19 pandemic began. Among other key findings, the data showed declining church attendance was linked to respondents' age and their emotional well-being. 
"These trends highlight the importance of churches continuing to reach out to and disciple the next generation, especially those who are seemingly falling away during the pandemic," says Barna. "Churchgoers, even those who have stopped regularly attending worship services during the pandemic, want support from a church community." 
New Barna Research Finds Surprising Trends
The new research is part of Barna's State of the Church project, a comprehensive and in-depth look at American attitudes toward attending church. The study evaluated the online church attendance habits of "practicing Christians" over a four-week period in April and early May. Barna defines "practicing Christians" as people "who identify as Christian, agree strongly that faith is very important in their lives and attend church at least monthly (prior to COVID-19)." 
Barna observed that because some time has passed since researchers collected this data, the findings might already have changed. But because researchers collected their information while state lockdowns were in full swing, the discoveries are still likely to benefit church leaders as the number of COVID-19 cases in the U.S. rises and various states retighten their restrictions. 
The study found that practicing Christians fell into three main groups: those who continued attending their original church by watching it online, those who started watching a different church service online, and those who stopped engaging with any church service whatsoever.
During lockdown, 53 percent of the respondents continued attending their original churches via online streaming, and some of those people added other church services as well. Thirty-five percent of the respondents stuck to their original churches without adding a service from a different church. Researchers found that those who continued attending their original church were "significantly more likely" to attend on a weekly basis compared to people who had opted for a different church. 
Around a third of the respondents (34 percent) digitally church hopped by streaming a service from a different church, but only 14 percent of those polled actually left their original church for another. "It is more likely for a Christian to have stopped attending church altogether during the pandemic," says Barna. "In fact, 32 percent of practicing Christians have done just that." 
Barna has noted elsewhere that this finding is surprising for a few reasons, most notably that many pastors observed online church attendance to increase during the pandemic. Other reasons this finding is unexpected are that on-demand online services are common and people's weekend schedules are likely to be freer than they were before the pandemic.
Declining Attendance Tied to Age and Mental Health
"A profile of these groups of online churchgoers reveals a strong generational pattern," say the researchers. The younger people are, the more likely it is that they stopped attending church during lockdown. This is notable because most would expect younger people to be more comfortable than older people in digital spaces. But 50 percent of Millennials said they had not attended church in the past four weeks. Thirty-five percent of Gen Xers and 26 percent of Boomers said the same. 
Another key finding from the study is there is a correlation between declining church attendance and the level of anxiety people reported experiencing. Says Barna, "Respondents who have stopped attending church during COVID-19 are less likely than their peers who are still attending the same church during the pandemic to agree with the statement 'I am not anxious about my life, as I have an inner peace from God' (76% vs. 87%)." Researchers also found that people who stopped attending church during the pandemic reported higher levels of boredom and insecurity.
"We can't determine the exact cause or direction of these correlations—and certainly, during a pandemic, the factors impacting well-being are many," says Barna, "but these are at least indications of a more challenging emotional climate for those who are not presently part of a church community."