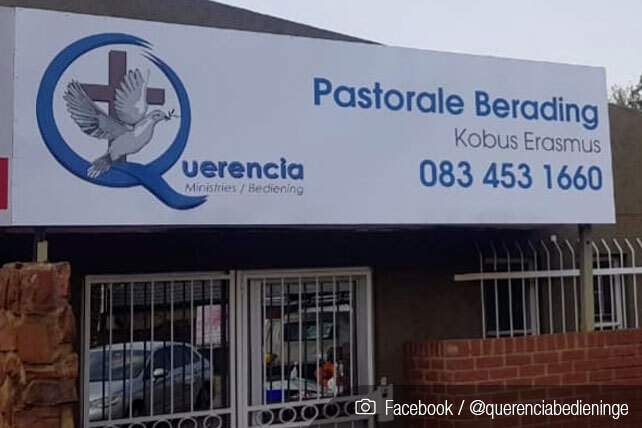 When three armed robbers entered a church in South Africa on Sunday, they were expecting the people in the sanctuary to be easy targets. Instead, they were met with an armed parishioner who shot and killed two of them.
"We were shocked beyond words, because we were in a church and within seconds everything changed," Pastor Kobus Erasmus told reporters. "Everyone was praying. We prayed for [the robbers], too. It's a hard and sore thing," he continued.
The armed parishioner was Pieter Van der Westhuizen, brother of the late South African rugby legend Joost Van der Westhuizen, and a former police officer. The armed robbers came into the sanctuary of Querencia Ministries, located in Pretoria, just as Erasmus was concluding the service, about to say the final prayer. Speaking to reporters, Erasmus recalled: "The men came in with loaded firearms. One of the gunmen hit me on the head with the front of the gun, gangster-style. He told me to lie down, but I could not because I have a broken hip. He took my cell phone."
What happened next is a blur to Erasmus. He remembers shots being fired shortly after he was hit in the head. Police confirmed the two robbers were shot and killed, although a more formal statement has not yet been made. 
No church members were shot despite the fact that multiple gunshots—Erasmus estimates 19—were fired. In addition to Erasmus' injury, a teenage boy was also grazed by shrapnel, but otherwise no one else was hurt physically. Several church-goers had personal items stolen like cell phones and jewelry. These items were later recovered. 
The third armed robber reportedly escaped via a getaway car parked outside the church.
One attendee, Rochelle Roets, gave voice to the trauma the church-goers experienced and which will likely still affect them for some time: 
I sit at the back of the church because I am in charge of the sound. When we were singing, I saw the door behind me open. I saw a guy with a gun and he signalled that I should get down. I went on my knees and I started to pray. Shots were fired. I said: 'God, if this is how it should be, then so be it'. As I was turning around, two shots went above my head and three on my left. I still feel rattled.
Ulrich Roux, Van der Westhuizen's lawyer, says his client acted in self-defense. Roux emphasizes that not only was Van der Westhuizen protecting himself, but the whole congregation, from harm. "Pieter did what was necessary to ensure everyone's safety," Roux told reporters.  
Roux also disclosed that Van der Westhuizen says one of the robbers put a gun to Erasmus' head and that the robbers were the first to discharge their weapons. Van der Westhuizen handed his firearm over to police to assist in any investigation that may take place, however he has not been charged with any wrongdoing.
Many are grateful for Van der Westhuizen's quick action: "Pieter you were like a David who rose for the nation!!! Your own life was at stake at the expense of them around you, so there are people who might [have died], but they live. My daughter and granddaughter, the Pastor (my son-in-law) the congregation. Pieter, grandma and I here in the Cape, love you lots, we honor God for you!" Dan Oosthuizen wrote on the church's Facebook page.