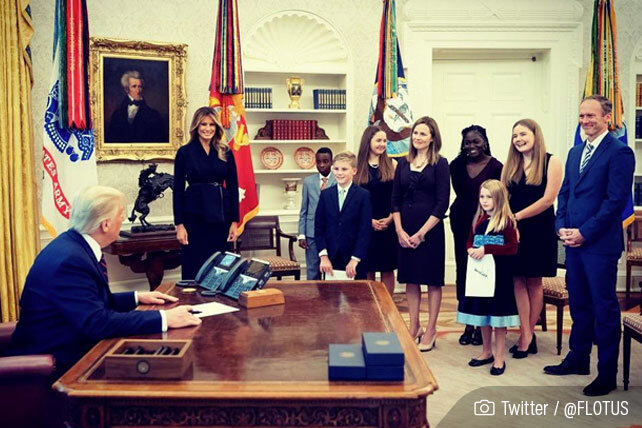 In a Rose Garden ceremony on Saturday, President Trump formally nominated Judge Amy Coney Barrett to fill the U.S. Supreme Court seat left vacant by the recent death of Justice Ruth Bader Ginsburg. Trump, who calls Barrett "eminently qualified," is urging a speedy Senate confirmation, saying he thinks the November 3 election results will end up in the high court.
Support for Barrett is largely split along party lines; she's being portrayed as a "dream candidate" for conservatives and a "nightmare candidate" for liberals. When the controversial nomination process officially begins October 12, legal experts predict Democrats will label Barrett as an extremist while Republicans tout her promise of impartiality. 
Amy Coney Barrett's Family Background and Faith 
Barrett, a 48-year-old Catholic, lives in Indiana with her husband, Jesse, and seven children, two of whom are adopted from Haiti. The couple's youngest biological son has Down syndrome, a diagnosis made while Barrett was pregnant. "While I am a judge, I'm better known back home as a room parent, car pool driver, and birthday party planner," Barrett said in her nomination speech Saturday. "Our children are my greatest joy, even though they deprive me of any reasonable amount of sleep."
Barrett is a member of People of Praise, a charismatic movement within Catholicism. The Indiana-based group, formed in 1971, has about 1,700 members who make a "covenant," or "lifelong promise of love and service to fellow community members." According to the group's website, members include "Roman Catholics, Lutherans, Episcopalians, Methodists, Pentecostals, Presbyterians, and other denominational and nondenominational Christians." It adds, "Despite our differences, we are bound together by our Christian baptism."
Sean Connolly, communications director for People of Praise, says the community has "male leadership at the highest level," based on New Testament teachings, but that women "take on a variety of leadership roles." Until recently, the group's female leaders were called handmaids, based on the Bible's description of Jesus' mother, Mary (Luke 1:38, KJV).
If Barrett is confirmed, SCOTUS would have six Catholic members, a fact that some people suggest might stem from the strength of Catholic education.
Judge Barrett's Legal Background and Experience
Barrett, who's served on the U.S. Court of Appeals for the Seventh Circuit since late 2017, graduated first in her class at Notre Dame Law School and teaches there. Fellow professors voiced support when she was nominated for the Seventh Circuit, calling Barrett "a brilliant teacher and scholar, and a warm and generous colleague." In an op-ed this weekend, six of Barrett's former students call her "the paragon of a professor," despite their "variety of views regarding how best to interpret statutes and the Constitution."
While critics cite Barrett's lack of experience, supporters point out that Chief Justice John Roberts had fewer years on a federal bench, and Justice Elena Kagan, an Obama appointee, had none.
More than 20 years ago, Barrett clerked for the late conservative icon Justice Antonin Scalia, who became a mentor. On Saturday, Barrett referenced Scalia's influence, saying, "His judicial philosophy is mine, too." Constitutional originalists, as Barrett explained Saturday, believe that "A judge must apply the law as written. Judges are not policymakers, and they must be resolute in setting aside any policy views they might hold."
Barrett acknowledged Scalia's unlikely friendship with Ginsburg, despite staunch ideological differences. She also pledged to be "mindful" of Ginsburg, whose "life of public service serves as an example to us all."
During the 2017 Senate confirmation hearings, California Senator Dianne Feinstein told Barrett, "The dogma lives loudly within you"—raising questions about a religious litmus test. Barrett responded, "I see no conflict between having a sincerely held faith and duties as a judge. I would never impose my own personal convictions upon the law."