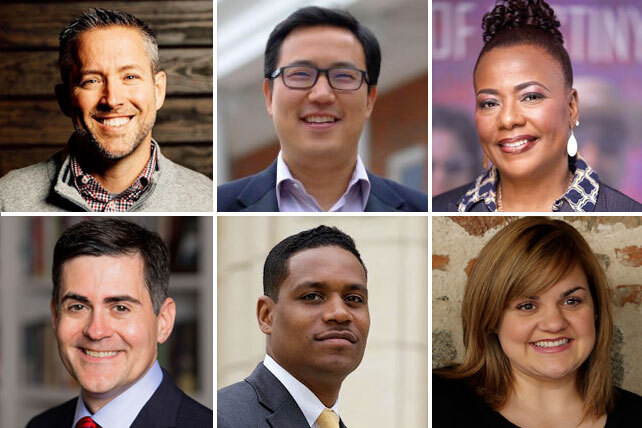 As the United States anxiously awaits the results of the presidential election, Christian leaders offer commentary and encouragement to followers and fellow believers.
Is "God Is Still on His Throne" Enough?
In elections past, several leaders were quick to echo a message that essentially said "Don't worry—God is still on his throne," but after the hardships and divisiveness our culture has experienced, especially this year, that platitude feels a little hollow for many. Explaining how the "God's still on his throne" comment sometimes falls short, Christina Embree, Minister of Generational Discipleship for the Great Lakes Conference of the Brethren in Christ, writes "God being on the throne does not preclude evil people from doing evil things":
Don't Be Anxious
J.D. Greear, the president of the Southern Baptist Convention, offered a nuanced version of "God is still on his throne" in a blog post titled "Some Thoughts After the 2020 Election." Greear encouraged fellow Christians to do three things following a contentious Election Day: relax, empathize with those who are fearful and concerned about the results, and rally behind the banner of Christ. 
Greear appealed to Christians to consider their neighbors in a time of division and fear:
Regardless of the presidential winner, many of our fellow citizens are going to respond with legitimate concern, even fear, for what this election means for our country. Respond to them with empathy. Empathy doesn't require that you agree with everything that troubles someone, but it does require that you value them highly enough to ask questions, to acknowledge their hurts, and above all, to listen.
Issues Around the Election
Franklin Graham, the president of Samaritan's Purse, says "many fear that some are trying to steal the election," alluding to President Trump's comment that the election is being "stolen" by the Democrats. In light of this fear, Graham asks followers to pray:
I ask that you continue to pray for our nation and this election. Many fear that some are trying to steal the election, so join me in praying that the will of God would be done. Pray that the enemies of God would be quieted and that all their plans would be put to nothing.

— Franklin Graham (@Franklin_Graham) November 4, 2020
Pushback against the idea that the election is being stolen came from some Christian leaders, like Rev. Bernice King:
Counting votes that were legally cast does not = "stealing the election." Dangerous rhetoric. Don't believe this. Large amounts of mail-in votes have not been counted because of procedural rules. #CountEveryVote #ForwardWithIntegrity #Election2020

— Be A King (@BerniceKing) November 4, 2020
Some others have taken a cue from the President and projected victory, like pro-life activist Abby Johnson:
Trump is going to win this election. Americans have spoken. 💪🏻

— Abby Johnson (@AbbyJohnson) November 4, 2020
Some leaders are using the waiting time to express thanks to officials and workers who are working hard to count votes and keep the public apprised of the process. Jeff Pickering, who serves on the staff of the Ethics and Religious Liberty Commission (ERLC) and Preston Perry, apologist and poet, expressed their thanks to these people: 
The state and local election officials in each of the press conferences I've seen this morning have been refreshing and impressive. The hard work of these public servants in their communities, under immense national media scrutiny, holds up our democracy. Thankful. #Election2020

— Jeff Pickering (@jeffpickering) November 4, 2020
These election workers the real mvps.

— Preston Perry (@Preston_n_Perry) November 4, 2020