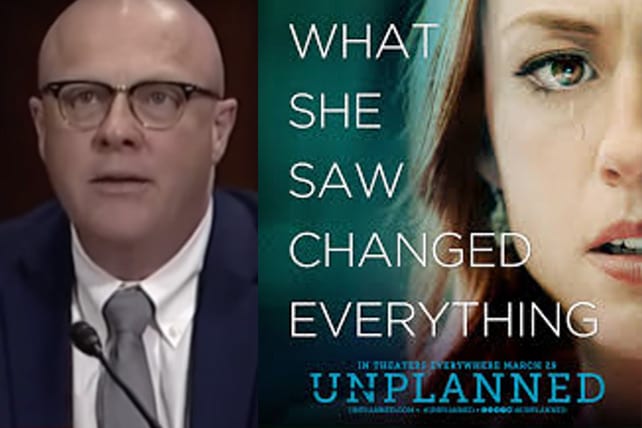 Despite what one of its creators calls a "sharpshooting" campaign against it, a newly released pro-life film continues to outperform expectations and change lives. Chuck Konzelman, co-writer and co-director of Unplanned, told a Senate subcommittee last week that his film was unfairly targeted in an effort to limit its impact.
Unplanned tells the story of Abby Johnson, a Planned Parenthood clinic director who became a pro-life advocate. Her nonprofit organization, And Then There Were None, helps abortion workers leave the industry.
On April 10, Konzelman told the Senate Judiciary Committee's Subcommittee on the Constitution that 94 abortion workers already have contacted Johnson's group for help, despite all the ways the movie has been "stymied."
Was Unplanned Intentionally Censored?
"From the outset, making a pro-life film in a pro-choice town—Los Angeles—we knew we would face a number of challenges," Konzelman told Congress. For starters, Unplanned was slapped with an R rating, automatically limiting its audience as well as placement of its preview trailers. Pure Flix, the faith-based company that produced Unplanned, had never received an R rating for one of its films.
Marketing was another challenge, Konzelman noted, as most cable networks declined to buy ads for the movie, citing its "sensitive nature." Producer John Sullivan says, "We were looking to spend money, but they didn't want to get involved." Two networks that did accept ads for the film were Fox News and CBN.
The obstacle Konzelman spent the most time addressing on Capitol Hill was the claim of social-media censorship. During the subcommittee hearing, titled "Stifling Free Speech: Technological Censorship and the Public Discourse," the filmmaker said his movie was unfairly targeted online.
Google Ads, for example, blocked the pre-release banner ads for Unplanned, even though they showed only part of a woman's face, a teardrop and the phrase "what she saw changed everything." For its part, Google "cited a policy regarding abortion-related ads," Konzelman told Congress. "Just one problem: We weren't doing abortion-related ads. We were marketing a movie."
He added, "This prohibition was solidly in place for the entire lead-up to our theatrical release," during the critical time period for building interest and awareness about the movie.
Twitter debacle causes an uproar
Claims of censorship peaked during opening weekend, at the end of March, when Twitter temporarily suspended the film's account. Early on March 30, the @UnplannedMovie account was suspended for three hours. Konzelman told Congress the reason "has not, to the best of my knowledge, been made clear, beyond being 'accidental.'"
Earlier at the hearing, Carlos Monje Jr., Twitter's public policy director, told Senators the movie's account "was caught in our automated systems used to detect ban evasion." Ban evasion is a tactic used by previously suspended users who attempt to set up a new account. Monje said the film's account was restored "as soon as it was brought to our attention that the new account was not intended for similar violative activity."
The film's Twitter account had been up for seven months prior to its release, raising suspicions about unfair targeting during opening weekend. "Have you banned this account because it challenges your pro-abortion bias?" tweeted Live Action president Lila Rose, tagging Twitter CEO Jack Dorsey.
When the account was restored, @UnplannedMovie tweeted that the suspension may have happened "because we are moving the needle, making a difference and changing hearts and minds." A sudden drop in followers also occurred after the Twitter account was reinstated, and some people were unable to follow the account. "Please correct this," tweeted actress Patricia Heaton, a Christian, to Dorsey.