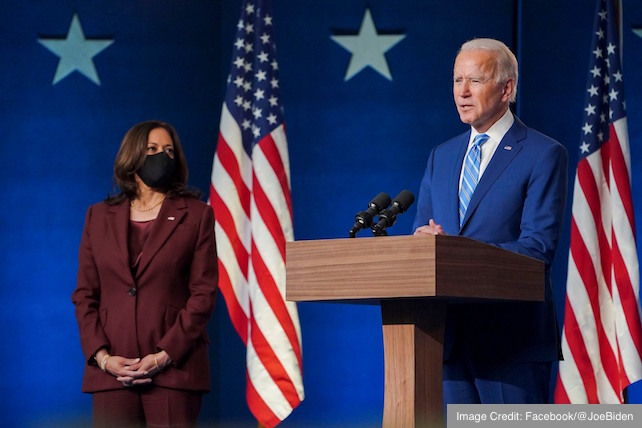 Joe Biden announced his intention to lift the ceiling of refugee admissions to the United States. Biden said he will raise the annual refugee admission target to 125,000, essentially reversing the strides the Trump administration took over the course of four years to bring that number down to an historic low of 15,000.
"The United States has long served as a beacon of hope for the downtrodden and oppressed, a leader in resettling refugees in our humanitarian response," Biden told a virtual gathering of supporters and leaders of the Jesuit Refugee Services on Thursday, November 12, 2020. "I promise, as president, I'll reclaim that proud legacy for our country," he continued.
While several news outlets have called the 2020 presidential election for Biden, President Trump and his administration are claiming the election was "rigged" and are pursuing legal action in some of the key battleground states to contest the election results. Trump has not conceded to Biden, and many of the president's supporters—the majority of Republicans in Congress among them—are encouraging him to pursue whatever legal means necessary to substantiate his claims of election fraud.
Exit polls indicate the white evangelical church largely supported Trump again this election, yet only a few high-profile evangelical leaders have repeated Trump's claims of election fraud. Some white evangelical leaders are even acknowledging Biden as the president-elect. In a November 7th op-ed published on Fox News, Trump supporter Robert Jeffress writes it's time for the evangelical church to do what it has always encouraged the country to do: Pray for the incoming president.
Biden Promises Immediate Action on Refugee Policies
So, if Biden assumes the presidency on January 20, 2021, what changes might he make to the United States' refugee policies? On Biden's website, the Biden-Harris administration says they will move to do the following in the first 100 days of a Biden-Harris administration:
End the separation of families at the U.S.-Mexico border. In a campaign ad released earlier this year, Biden said he would create a federal task force on day one of his presidency to reunite the 666 children who remain separated from their families after being detained at the U.S.-Mexico border.
Reverse Trump's "detrimental" asylum policies. The Trump Administration rolled out a number of restrictions on those seeking to enter the United States via the Mexican border. Trump's Migrant Protection Program (MPP), or the "Remain in Mexico" plan as it was commonly referred to, was widely criticized for sending asylum seekers back across the border to await hearings. These people often found themselves in dangerous situations in Mexican border towns as they awaited trial. Biden is also seeking to put an end to "metering," which is the system by which the number of asylum applications accepted each day are limited, thus exacerbating the wait times of asylum seekers.
Biden says he will "rescind the un-American travel and refugee bans, also referred to as 'Muslim bans.'" While campaigning in July, Biden told attendees of the Million Muslim Votes Summit that he intended to end the ban on "day one" of his presidency. The "ban" was one of Trump's first actions when he came into the office in 2017 and his office referred to it as an "enhanced screening and vetting requirements" implemented for the sake of national security. 
Biden also pledged to protect individuals who qualify for temporary protected status (TPS) and deferred enforced departure (DED). 
Despite Biden's intention to tackle some of these problems related to refugees in the first 100 days of his administration, some refugee advocates aren't holding their breath due to the pandemic. "For the first 100 days, there will be very little bandwidth for a Biden administration to deal with anything other than COVID," Muzaffar Chishti of the Migration Policy Institute told NPR. "We can't expect a huge leap on immigration policy. If people expect that this is going to happen tomorrow, they will be in for a big disappointment."
The leaders of World Relief, one of the nine organizations the U.S. Government partners with to resettle refugees within its borders, are striking a cautiously optimistic tone. World Relief was forced to lay off over 140 employees in 2017 as a direct result of the Trump administration's efforts to halt refugee resettlement in the U.S.
Following Biden's victory speech last weekend, World Relief president Scott Arbeiter and CEO Tim Breene released a statement urging "President-elect Biden to uphold his campaign promise to pursue comprehensive immigration reform within his first 100 days in office and to reverse current immigration and refugee policies that put vulnerable individuals in danger, especially the travel ban and the historically-low refugee ceiling." 
Despite their caution, however, Arbeiter and Breene say churches should "ready themselves to welcome refugees and immigrants in vulnerable situations."