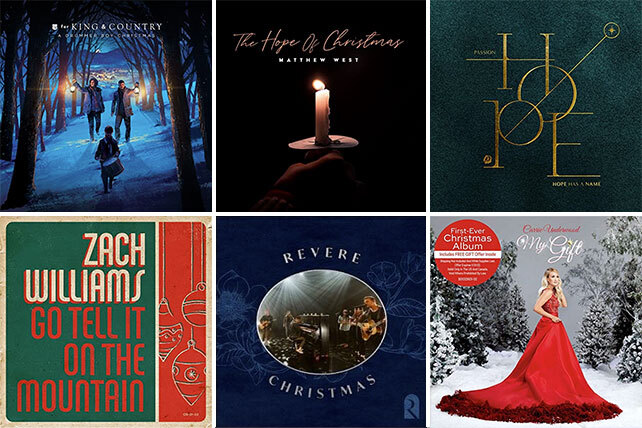 There's no doubt about it: It's been a tough year. Thankfully, multiple artists have decided that the challenges of 2020 make it the ideal year for releasing new Christmas songs that remind us we have a hope that does not change with our circumstances, but is everlasting.
"When the hardship of 2020 took hold of the world, we thought that it would be the imperfectly perfect year to put together our first ever full-length Christmas record," said Joel Smallbone of for KING & COUNTRY. "And therefore, it's with great reverence and pride coupled with the hope that Christmas 2020 will be the most redemptive and joy-filled celebration of the greatest hope mankind has ever known—the birth of Jesus Christ—that we present to you 'A Drummer Boy Christmas.'"
2020's Christmas Songs Emphasize Hope 
1. for KING & COUNTRY, A Drummer Boy Christmas (Album)
One of the unique features of for KING & COUNTRY's new Christiams album is that it begins with a prelude and ends with an epilogue from the classic English carol, "In the Bleak Midwinter," which is based on a poem by Christina Rosetti. The epilogue concludes the album with the poem's closing lines:
What can I give Him, poor as I am?
If I were a shepherd, I would bring a lamb;
If I were a Wise Man, I would do my part;
Yet what I can I give Him: give my heart.

In addition to the traditional Christmas songs on the album (including the one referenced in the title) other notable tracks are "The Carol Of Joseph (I Believe In You"); "A Christmas Monologue," a literal monologue recorded over music; and "Won't You Come," a blend of speaking and singing. One of the most striking songs on for KING & COUNTRY's new album is "O Come, O Come, Emmanuel," a collaboration with NEEDTOBREATHE.
2. Carrie Underwood, My Gift (Album)
Carrie Underwood's Christmas album contains many classic Christmas hymns, such as "Joyful, Joyful, We Adore Thee," "O Come All Ye Faithful," and "O Holy Night," in addition to Christmas songs that the artist wrote herself. These originals include "Sweet Baby Jesus" and "Let There Be Peace."
Underwood pays a nod to 2020 with "Hallelujah," featuring singer and songwriter John Legend. The single contains allusions to classic Christmas songs like "Silent Night" and "Angels We Have Heard on High," but it is really about the love between two people, as well as a prayer for peace and unity at the end of a difficult year.
Ooh, let there be peace on earth
Let the lonely join together, let them know their worth
Ooh, let the children know
There's a brighter day ahead, let's hold on to hope
And on the coldest evening in this December
Let us pray the spirit of love will linger 
Glory, glory, glory I'm so glad to have you here
And may this Christmas moment last for years
Let the world stand still, the church bells ring
Silent night as the angels sing
Hallelujah, Hallelujah
Let the magic warm the moonlit air
Hear the choirs join in singing everywhere
Hallelujah, Hallelujah
Hallelujah, Hallelujah, Hallelujah
3. Passion, Hope Has a Name (Album)
Passion has released their first Christmas album, and the title track focuses on Jesus as "Immanuel," which means "God with us." The song starts quietly, but the chorus breaks into a triumphant declaration that:
Hope has a name, Immanuel
The light of the world who broke through the darkness
All hail the king, Immanuel
The light of the world, the glory of heaven
The album has a couple classics or takes on them, including "O Holy Night" and "O Come All Ye Faithful (His Name Shall Be)," in addition to five originals that include "The King Has Come" and "Highest Hallelujah." Passion's Kristian Stanfill said, "With so many things being canceled and changed this year with the onset of COVID-19, one of the few blessings has been time. We had more time to dream, write and create what it would look like to make a Christmas record. The heart of this whole project is an invitation to come and find everything you need in Jesus."