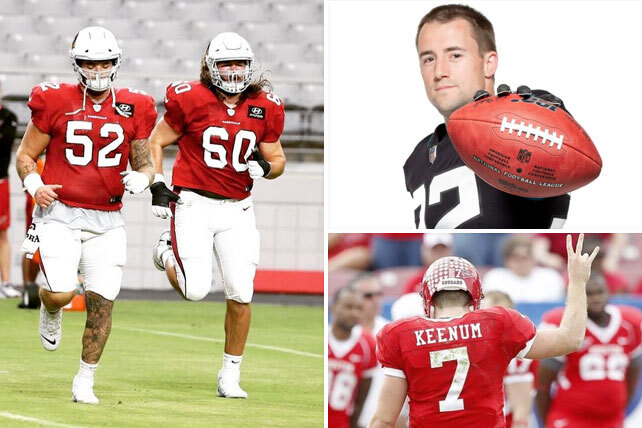 For this year's My Cause My Cleats, the NFL initiative that lets players publicize organizations and causes they support, three pro football players gave a shoe-based shout-out to the Fellowship of Christian Athletes (FCA).
FCA Supporters Among the NFL's Ranks
Here's a snapshot of the athletes who took to the field last Sunday with FCA on their feet:
Cody Davis, New England Patriots 
Veteran safety and special teams player Cody Davis signed with the Patriots this spring, just as the pandemic was ramping up and he and his wife, Ashley, were awaiting the birth of their third son.
On an episode of the "Unpackin' It" podcast, host Bryce Johnson asks Davis how his faith has fared during this unusual year. "I think our pastor put it best," Davis says. "We have an opportunity to serve" people who are struggling during the pandemic. "It's also broken down barriers to where it's not weird to ask your neighbor how he's doing anymore. And it's not weird to call people you haven't talked to in a long time."
Coronavirus-related shutdowns, Davis adds, help him put life into perspective. It "shows how much worldly stuff we're caught up in each day now that it's taken away from us," he says. "Some of that's just running on a hamster wheel."
This season, Davis is participating in a Bible study on Zoom with fellow Patriots players.
Koda Martin, Arizona Cardinals 
Offensive lineman Koda Martin, now with the Cardinals, says his Christian faith helps him through the challenges of an athletic career, including defeats, injuries, and unexpected moves. After a frightening heatstroke incident, he leaned on the promise found in Isaiah 40:31. Martin says he "trusted the Lord that he was going to renew my strength, and he's done that."
Both Martin and his wife, Jazzmin, a volleyball standout, were active with FCA in college. The most important quality he wanted in a spouse, he says, was faith compatibility. "She loved Jesus and I love Jesus," he says, so "our beliefs lined up."
Case Keenum, Cleveland Browns
Journeyman quarterback Case Keenum, now with the Browns, met his wife, Kimberly, at an FCA event and continues to be outspoken about his faith. Being a pro athlete comes with big responsibilities and valuable opportunities, he realizes. "There are people who look at you and want to be like you," Keenum says. "You can promote yourself, you can promote your team. But if you are a Christian, you can choose to promote Christ, and that's been what I've strived to do ever since I stepped on the field."
Keenum also has discussed the role of faith in his marriage and the couple's struggles with infertility. The Keenums are now the parents of a one-year-old boy.
Cleat-Worthy Causes
According to NFL stats, for this year's My Cause My Cleats game, about 21 percent of players chose social-justice causes, 17 percent focused on youth, and 13 percent addressed cancer awareness and prevention. Other cleats showcased homelessness, anti-bullying efforts, animal cruelty, and homelessness. After the game, many players auction off the customized kicks to support their causes.
Cyd Zeigler, co-founder of OutSports.com, expressed frustration that no NFL player has yet chosen an LGBTQ cause for cleat promotion—while decrying the attention given to FCA, which Zeigler calls "anti-gay." In its faith statement, FCA declares that "marriage is exclusively the union of one man and one woman."