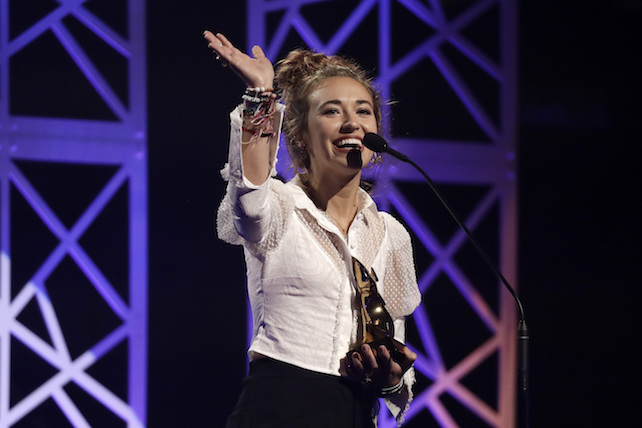 (RNS) — Christian pop star Lauren Daigle is responding to Louisiana news reports that she had been removed from the lineup of "Dick Clark's New Year's Rockin' Eve," the iconic musical countdown to the New Year on ABC.
The move reportedly came after New Orleans Mayor LaToya Cantrell raised concerns about Daigle's appearance at Sean Feucht's "Let Us Worship" rally and concert last month in the city, where Daigle lives and "New Year's Rockin' Eve" plans to film its countdown for the Central time zone.
Feucht's event in New Orleans' French Quarter did not have a permit and violated public health guidelines in place to prevent the spread of COVID-19, the disease caused by the novel coronavirus, according to the mayor. The event put New Orleans residents in danger and threatened the city's progress in combating the pandemic, she wrote.
But, Daigle said in a statement Thursday evening (Dec. 17) to the New Orleans Advocate, she had never been confirmed to perform on "New Year's Rockin' Eve."
"I would have been, and still would be, honored to represent our city on New Year's Eve and although I was aware of discussions regarding my involvement, an offer was never made," she said.
"I have wept, pleading for this chaos to dissipate and for harmony to return. We need unity when people are desperate, suffering, starving or out of work," she added.
A source close to the production of "Dick Clark's New Year's Rockin' Eve" confirmed Daigle's statement to Religion News Service, saying she had never been part of the line-up for the broadcast.
In a letter to Dick Clark Productions, published by New Orleans radio station WWL, Cantrell wrote last week that she could not "in good conscience" support Daigle's involvement in its broadcast.
Earlier this week, Daigle, a two-time Grammy Award-winning singer, also performed her crossover hit "You Say" on the season finale of NBC's "The Voice."
"She harmed our people, she risked the lives of our residents, and she strained our first responders in a way that is unconscionable — in the midst of a public health crisis. This is not who we are, and she cannot be allowed to represent New Orleans or the people she willfully endangered," Cantrell wrote.
The event was part of the controversial " Let Us Worship" tour, a series of "worship protests" led throughout the pandemic in cities across the country by Feucht, a failed congressional candidate and worship pastor associated with Bethel Church in Redding, California.
A video tweeted Nov. 7 by Feucht shows Daigle singing the hymn "Great Is Thy Faithfulness" at the demonstration in New Orleans. Nobody appeared to be wearing masks or social distancing.
A column about the event days later in the New Orleans Advocate noted Daigle's appearance and asked, "What in God's name were they thinking?"
After speaking with Daigle, Louisiana Lt. Gov. Billy Nungesser has said the whole thing is a misunderstanding, according to local media reports.
Daigle was not officially part of the event and is not responsible for the crowd of a few hundred people who gathered in the French Quarter, Nungesser told WWL.
Instead, the singer explained to him she had been riding her bike nearby when she heard people praying for hospitality workers and stopped to join them, he said. She then was invited to sing.
In a written statement, the lieutenant governor described the mayor's actions as "retaliation" against Daigle and fretted that they could cost Louisiana the opportunity to be part of "Dick Clark's New Year's Rockin' Eve."
"In the long run, this action will not only hamper any efforts for New Orleans to recover from the pandemic, but also every city in the state which offered to host the event, and the state as a whole," Nungesser said.
"New Year's Rockin' Eve" does plan to include the Fleur de Lis drop at midnight Central time in New Orleans as part of its broadcast, according to a source close to production.
Daigle reiterated Nungesser's version of the events in her statement, noting the presence of uniformed police officers at the event. When asked to sing, she said she felt music could serve a "higher purpose," giving people encouragement, hope and joy.
"I'm disappointed that my spontaneous participation has become part of the political discourse and I'm saddened by the divisive agendas of these times," she said.
"Dick Clark's New Year's Rockin' Eve" has been a New Year's staple since 1972. Now hosted by Ryan Seacrest, the 2021 production — without its usual live audience — will feature more than five and a half hours of music from artists like Jennifer Lopez, Billy Porter and Cyndi Lauper.
This story has been updated with responses from Daigle and a source close to Dick Clark Productions.
---
This article originally appeared on ReligionNews.com.