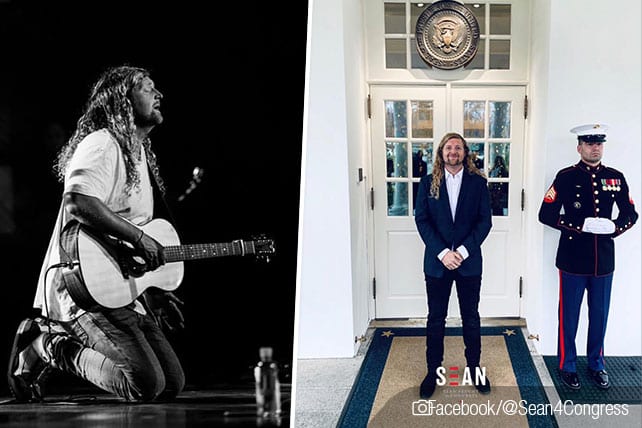 Since announcing a congressional run at the end of September, Bethel Music worship leader Sean Feucht has sung praises to God at the White House, accepted an invitation to pray for President Trump, and discovered how difficult it is to run for office. But the 36-year-old husband and father says he feels God is calling him to fight for America's families—as well as for refugees fleeing persecution.
Feucht (pronounced "Foyt") has released more than 20 albums, written five books, started three non-profits, and conducted missions in more than 50 countries. As his campaign website notes, he's "not looking for another job" but "is determined to bring hope, inspiration, and change to politics before it's too late."
Why Sean Feucht Is Running for Congress
Feucht is a Republican candidate for California's third congressional district, north and west of Sacramento. In a March primary, he'll face incumbent Democrat John Garamendi, the state's former lieutenant governor.
"Raise Your Voice," a new song Feucht made available for free download, sums up the heart of his campaign. He'd been praying for an awakening in America and for righteous leaders, he tells the Christian Post, but eventually realized "prayers don't carry a lot of weight unless there is action behind them." Feucht says he feels a burden for his country and worries about what it will be like when his four children are grown.
Speaking to the Washington Examiner, Feucht says he plans to "represent families," not just people of faith. "My faith guides decisions that I make," he says, "yet at the same time we are a normal family and we have to buy gas every day and have to deal with everything that other Americans have to deal with." He's also targeting disaffected and disillusioned voters, especially Millennials.
No matter the election outcome, Feucht says, he hopes to get young people engaged in politics and interested in running for office—a process he admits is tough because it "takes over your life."
Sean Feucht Explains His Platform
Feucht's campaign website states that "family values are being eroded, the unborn are sacrificed, morals are low, and taxes are high." America, it says, needs "leaders with a vision, leaders who don't seek a career, but are willing to sacrifice to fight for what is right."
The long-haired worship leader, who doesn't own a suit, says it's "a little archaic" to think outsiders don't belong in politics. In fact, he points to King David as an example of a ruler who "never lost the heart of worship."
Though he's a Republican, Feucht insists he's a "free thinker" who "isn't owned." He's willing to disagree with President Trump, as evidenced by his reaction to U.S. troop withdrawals in Syria. Feucht says he has a heart for refugees because he's spent so much time with them.
On social media, Feucht posts campaign highlights, including a surprise fundraiser visit from Senator James Lankford (R-Okla). After his White House appearance, Feucht posted video of the worship event, writing, "Let this sound give you great hope for America!"
Feucht has been featured on PreachersNSneakers, an Instagram page poking fun at church leaders wearing expensive shoes and apparel.