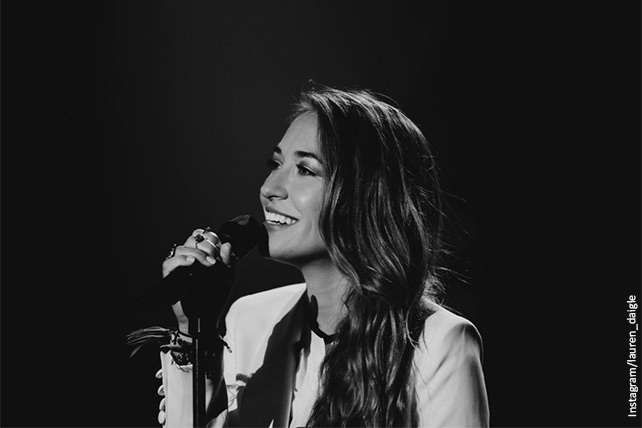 Grammy Award-winning Christian artist and Louisiana native Lauren Daigle had been scheduled to perform at the annual New Years Rockin' Eve produced by Dick Clark Productions, but New Orleans Mayor LaToya Cantrell called for her removal due to her performance at Sean Feucht's "Let Us Worship" rally last month that took place in Louisiana's French Quarter.
The "Let Us Worship" rally saw an estimated 400 people in attendance, most of whom were not wearing masks or face coverings.
GREAT IS THY FAITHFULNESS OVER AMERICA tonight in New Orleans with @Lauren_Daigle 😭😭😭😭😭 pic.twitter.com/B6piHkmH7u

— Sean Feucht (@seanfeucht) November 7, 2020
Mayor Cantrell said that Daigle put the city's residents at risk and should not be given national exposure for not following public health orders. In the letter that was sent to Dick Clark Productions' President Amy Thurlow on December 9, 2020, Mayor Cantrell wrote:
On November 7th of this year, Ms. Daigle joined activist and provocateur Sean Feucht to headline a "Let Us Worship" rally and concert in the heart of our French Quarter near Jackson Square. The event was unpermitted, and in violation of critical health guidelines my administration has put in place to save lives in our City. It endangered lives.
Ms. Daigle cannot and should not be rewarded with national media exposure and public spotlight. She harmed our people, she risked the lives of our residents, and she strained our first responders in a way that is unconscionable – in the midst of a public health crisis. That is not who we are, and she cannot be allowed to represent New Orleans or the people she willfully endangered.
I ask that you immediately remove Ms. Daigle from the line-up for New Year's Eve. Our city is grateful to have your iconic production once again broadcasting live from our streets, but we cannot abide the participation of an entertainer who put our people in harm's way.
Louisiana's Lieutenant Governor Billy Nungesser, who recently tested positive for COVID-19, was critical of Mayor Cantrell's request to remove Daigle from the global celebration. Nungesser described the Mayor's actions as retaliatory "beyond belief" and also implied that the Cantrell's request might have jeopardized the event from being filmed in Louisiana. In a statement released by the Lieutenant Governor, he said:
When Mayor Cantrell's personal feelings toward Lauren Daigle being tapped to promote her city came to light, we attempted to move the safe, and socially-distanced, celebration to a location outside of New Orleans and Orleans Parish, even offering to hold the event on a riverboat in Gretna with New Orleans still serving as the backdrop. It was then Mayor Cantrell took this issue to the next level, writing letters and making phone calls to Dick Clark Productions and ABC. The result of her actions was a decision by Dick Clark Productions to pull Lauren Daigle from the lineup and any celebration from Louisiana to be broadcast worldwide. In the long run, this action will not only hamper any efforts for New Orleans to recover from the pandemic, but also every city in the state which offered to host the event, and the state as a whole.
It is unclear whether Dick Clark Productions considered pulling the event from Louisiana. According to New Orleans' local news station WDSU, "a city spokesperson said that only Daigle was pulled from the lineup and the New Orleans event is still on."
The Lieutenant Governor praised Ms. Daigle for her investment into her home state of Louisiana by making "numerous" appearances to help promote tourism for the state's Feed Your Soul program, in which she appears on the front of the visitor's guide.
Louisiana's Attorney General Jeff Landry also expressed criticism for Mayor Cantrell's actions toward Ms. Daigle, saying the Mayor appears to be targeting her because of her expression of faith at the "Let Us Worship" rally. He also offered to help Dick Clark Productions find another location within the state so that the singer could still appear on the annual Rockin' New Years Eve program, and even sent Lauren Daigle a letter voicing his support for her.
In the Attorney General's letter he wrote, "The Mayor is attempting to retaliate against you because, as I understand it, a group of individuals gathered in November in the French Quarter to protest and worship through prayer and song in a public square….Your rights to protest and worship are enshrined in the First Amendment. I vow to do everything in my power to protect them."
BREAKING: Today I stood up to New Orleans Mayor LaToya Cantrell for targeting Christian music performer LAUREN DAIGLE just because she expressed her faith through song at a protest. The same Mayor who has not attacked other protests or recent Conventions. See my letter here. pic.twitter.com/dSg4zppZI2

— Jeff Landry (@JeffLandry) December 14, 2020
Lauren Daigle hasn't released a statement about the incident at the time of this publication.