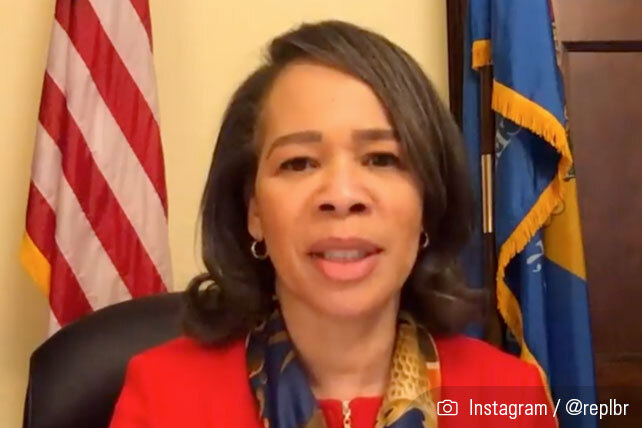 Congresswoman Lisa Blunt Rochester (D-DE) shouted out a prayer as she and other lawmakers took shelter while rioters broke through police barriers and into the Capitol building last week.
In a video that has been circulating the internet, the sound of glass breaking and shouts of "Stay down" can be heard. Intermingled with these noises, Rochester can be heard pleading for God to heal America and asking for protection for those police officers trying to protect lawmakers, as well as for her fellow congress men and women.
 

 

View this post on Instagram

 
Here is her full prayer that was caught on camera from the floor of House of Representatives:
"Father God you are all-powerful. We know all things work together for the good. So we trust in you right now in the name of Jesus, that you have this under control.
Right now in the name of Jesus! All things work together, all things! 
PEACE! Peace in the land… Peace in this country… Peace in this world…
Lord we ask you for a healing. Right now. Right now in the name of Jesus.
Lord protect (unknown) Protect those who are trying to protect us…
Protect all of our brothers and sisters in this Congress who protect America Lord.
We just thank you. We praise you. We give you all honor and glory because you you are powerful! Above all… 
We thank you right now. In this MOMENT!"
 

 

View this post on Instagram

 
As violence overshadowed the peaceful Jericho March that occurred last Wednesday, January 6th, 2021, evangelical leaders quickly reacted to events that claimed five people's lives, one of whom was a Capitol police officer who was struck in the head with a fire extinguisher during the Capitol riots. It has been reported that sixty Capitol police were injured.
Pastors, faith leaders, and other Christians have explained why they attended the D.C. rallies and what they experienced.
One attendee was LifeSiteNews.com Vice President Gualberto Garcia Jones reporting, "What I saw was a lot of people who love God and love their country. And the vast, vast majority of them truly were overwhelmingly peaceful…I saw a portrait of middle America: overwhelmingly Christian but racially diverse, with people of every age group and from every corner of the country… looked like they wouldn't much mind a brawl with Antifa, but I did not see a single Trump supporter calling for chaos and mayhem."
However, other faith leaders in proximity to the rallies, including the pastor of Capitol Hill United Methodist Church, saw the events differently and feared for the safety of not only the church building, but more importantly the members who live in the area.
Bishop Latrelle Easterling of the Baltimore-Washington Conference of the United Methodist Church called the riots that resulted from the rallies a "perversion of the Gospel":
The rioters who climbed the steps and walls of the Capitol sought to overturn the law, a fair election, and justice, and claimed their motivation was to defend God and their freedoms. They waved banners emblazoned with the words, "Jesus Saves," but this is not what Emmanuel came to earth to embody. This is a perversion of the Gospel. This should drive all of us to our knees.
As far as Rochester is concerned, the events at the Capitol that led to her prayer highlight the need to remove President Trump from office. "He's long been unfit for office. Now he's a clear and present danger to the country," Rochester says.