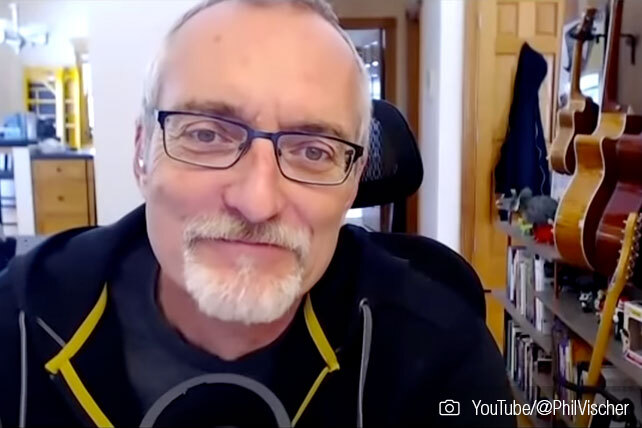 (RNS) — Phil Vischer was driving home from his studio and listening to NPR when he had another of his big ideas.
Vischer, the creator of "VeggieTales," the animated series in which produce-aisle items act out Bible stories, says he often talks back to NPR's stories — with his characteristic wisecracks, of course, but also with probing questions when he feels the reporter missed something.
"I was having some really interesting conversations with myself in my car," said Vischer, the voice of "VeggieTales" host Bob the Tomato. "And then one day, I wondered if anyone else would like to listen in to these conversations?"
The answer, it turns out, is yes.
Since 2012, Vischer has recorded more than 440 episodes of the " Holy Post," a weekly podcast that he co-hosts with his friend, Christian author and speaker Skye Jethani. The show has also spawned videos about race, politics and the history of the evangelical movement, drawing millions of views.
While the early audience for "Holy Post" was largely made up of "VeggieTales" fans, in recent years the podcast has increasingly spoken to millennial evangelicals who have been turned off by developments in the movement — "VeggieTales kids," Vischer calls them, whose spiritual development he still sees as his responsibility.
"They're growing up and looking around at white evangelical Christianity in America, saying, 'Gee, I liked it when Bob taught it, but I don't think I like it anymore,'" he said. "I felt a bit of a responsibility to keep teaching the faith."
The podcast and the videos are part of Vischer's latest attempt to reinvent himself in the years following the collapse of the company behind "VeggieTales." It's still a work in progress, he told Religion News Service.
The inspiration for the "Holy Post" actually predates Vischer's becoming a household name in evangelical Christian culture during the 1990s.  The Bible school dropout — he flunked chapel — first pitched a David Letterman style talk show for teens but no one bit. So he moved to another idea — making an animated show about talking vegetables that love Jesus.
That idea hit at just the right time.
In 1993, when "Where Is God When I'm S-Scared?" — the first "VeggieTales" episode — debuted on VHS, Christian retail and videocassette sales were both booming. The annual Christian Booksellers Association meeting drew more than 12,000 people that year, including representatives from more than 2,600 stores, according to a history of the CBA.
Vischer's Big Idea Productions eventually grew to 200 employees and $40 million in annual sales. But the company grew too big too fast, causing cash flow problems. The company's first Hollywood film, "Jonah: A VeggieTales Movie" did well at the box office but wasn't a major hit. Then the company lost an $11 million lawsuit filed by distributor Lyrick Studio for breaking an agreement.