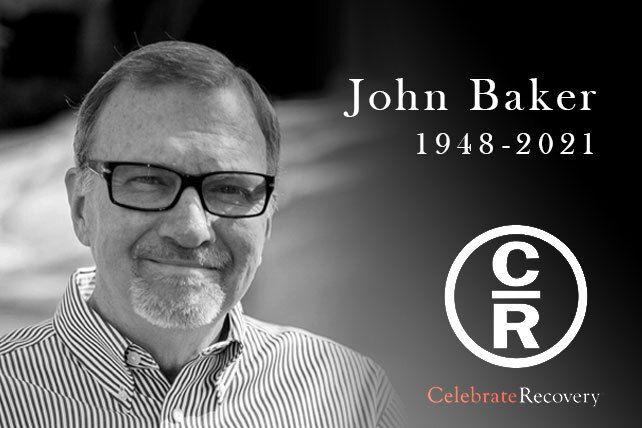 Tributes continue pouring in for John Baker, co-founder of the Christ-centered support group Celebrate Recovery. Baker, 72, died unexpectedly on Tuesday, according to the ministry's social media posts.
National director Mac Owens requested prayer for Baker's wife, Cheryl, and family, saying John will be missed "more than words can express." He writes, "To say this took us by surprise would be an understatement. John touched more people with the healing power and grace of Jesus Christ than anyone else that I have ever known personally, and one of those lives was mine."
No cause of death has been released, but Owens says more information will be released in the coming days.
John Baker's Legacy of Life-Transformation
 In 1991, Baker proposed and launched a 12-step recovery ministry at Saddleback Church in Lake Forest, California. A self-described "functioning alcoholic" with a failing marriage, Baker had been attending Alcoholics Anonymous meetings at Pastor Rick Warren's church. When God led Baker to develop a recovery program that incorporated Christian principles, Warren responded, "Go do it!"
During the past 30 years, more than 27,000 people have participated in Celebrate Recovery at Saddleback alone. About 35,000 groups now meet worldwide, with programs in place at prisons, colleges, shelters, and churches. Baker, who eventually attended seminary and became a pastor and elder at Saddleback, also wrote several books to help people overcome "hurts, hangups, and habits."
Tributes for John Baker
On Twitter, Kay Warren, wife of Saddleback founder Rick Warren, calls Baker "a giant of a man." She writes, "There is simply no way to put into words how I love John and will miss this kind, creative, brilliant, and faithful man."
Richard Cobb, Celebrate Recovery's international director, says Baker is "a hero of the faith" who set a lasting example and provided "a fresh picture of how God can help with our brokenness."
Prison Fellowship president James Ackerman describes the "fruitful collaboration" between that ministry and Celebrate Recovery, saying Baker's legacy of "faithful obedience will go on for generations."
The Rev. Johnnie Moore calls Baker "a doctor of hope" and "a truly great man" who wanted to save lives as well as souls.
In a video posted to social media, psychologist John Townsend refers to Baker as a close friend who "changed the world with Cheryl." Through their vision, Townsend says, thousands of addicts and codependents have found "hope, faith, healing, and community."
Please join me in prayer for the family and leadership of @celebraterecvry as we mourn the loss of co-Founder and my dear friend, JohnBaker. 🙏🏼 pic.twitter.com/YmA6BQYV4c

— Dr. John Townsend (@drjohntownsend) February 24, 2021
Many people whose lives were changed through Celebrate Recovery also are posting tributes and words of gratitude. Baker "has done so much for the hurting people in this world, including me," one writes. Another notes, "My life has never been the same because of the life of one man, John Baker, who said 'Yes' to the Calling God gave to him."
Eddie James, a member of the Skit Guys and former Saddleback staff member, writes, "I lost my father figure," calling Baker "Papa John." James expresses thanks for the love and patience Baker offered him as a 20-year-old "prodigal," saying that "altered and guided and propelled" his life.
View this post on Instagram