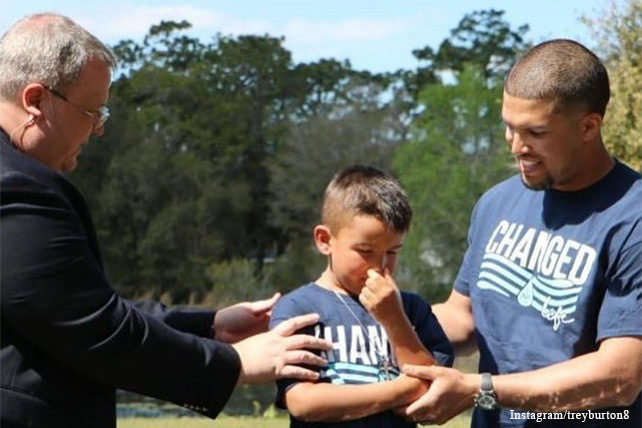 Indianapolis Colts tight end Trey Burton proudly displays the convergence of faith, family, and football.
Though his fans may know him best as the player who threw the "Philly Special" touchdown pass in Super Bowl LII, Burton's athletic accolades are not what's most important to him.
God is at the center of his life, and the tight end is proud to show it. In fact, Burton's been known to water baptize teammates back when he played for the Philadelphia Eagles. In 2016, a video was released of Eagles players Mychal Kendricks, Jordan Hicks, Kamu Grugier-Hill, David Watford, and Paul Turner all publicly professing their faith as they got baptized in the team's practice facility recovery pool. Trey Burton and chaplain Ted Winsley conducted the baptisms, as approximately 15 teammates witnessed the miraculous event.
Most recently, Burton got in a pool of water outside of his Tampa church to baptize his son Jaxon. The proud papa blessed and baptized his 6-year-old, and afterwards took to Twitter and Instagram saying, "My little man is FOREVER CHANGED!"
"I'm so proud of Jax for his boldness and thankful for the spirit he has been given," Burton continued. "Praying he will keep his eyes fixed on Jesus no matter what is going on in the world."
"You will seek me and find me when you seek me with all your heart." (NIV)
The pastor standing next to the father-son duo asked Jaxon to say who His Savior is now and forevermore.
"Jesus Christ," Jaxon proclaimed.
The spiritual experience was such a special event for Burton and his wife, Yesenia. The NFL player, who also has two daughters, has made it clear that his family is his pride, joy, and priority.
"Over the last eight years I've been discovering what it means to be a dad," wrote Burton on The Increase. "I never had a dad growing up, so I really wasn't sure how to do this. But one thing I knew is that I wanted to be present in my kids' lives."
The doting father played this past season with the Colts on a one-year contract, but due to COVID restrictions, he was able to spend much more time with his family of five than usual—which was just fine by Burton.
"My decisions don't just affect me, they affect my family," the tight end wrote last month. "But whatever happens, I have an incredible peace during this situation. I've never been the guy who wants to play 30 years in the league and then never walk again. I know I still have the ability to play, so if God wants me to play, I know He will open up the right doors for us."
This article originally appeared here.