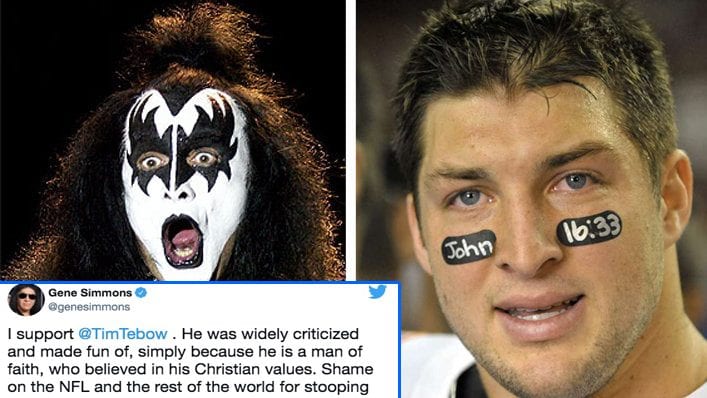 Gene Simmons, lead singer and bassist for rock band Kiss, is once again coming to the defense of Tim Tebow, calling out the former football player's critics on Twitter.
Gene Simmons Defends Tebow — Again
Simmons posted the comment along with a TMZ article announcing Tebow's potential one-year contract with the Jacksonville Jaguars.
"I support Tim Tebow,"
Simmons tweeted on May 11.
"He was widely criticized and made fun of, simply because he is a man of faith, who believed in his Christian values. Shame on the NFL and the rest of the world for stooping so low."
Tebow: A Common Target of Hateful Criticism
The 33-year-old athlete, who tied the knot with Demi-Leigh Nel Peters last year, has been the target of hateful criticism in both his college and pro career.
Known for taking a knee in reverence to God, and wearing Bible verses like John 16:33 on his eye paint during games, Tebow was readily made a mockery by the NFL and the public at large.
A popular "SNL" skit poked fun at Tebow's "prayer bow" before games, and a handful of the former quarterback's fellow football players joined together to complete the comedic act.
The moral standards that went along with Tebow's faith, like saving sex for marriage, were equally harassed for years. Being a 30-year-old male virgin was just insanity to the secular, sex-crazed culture. The world lost its mind when Tebow was allegedly dumped by a former Miss Universe because he wouldn't have sex with her. 
Thankfully, there have been a handful of influential figureheads that have stood up for Tebow, championing him for his strong faith rather that ridiculing him. This isn't the first time Gene Simmons has defended Tebow.
In fact, in a 2013 interview that has since gone viral, Simmons boldly stated, "Here's a man who believes in God and people pick on him. If he was a Jew or a Muslim and you did that—people would never dare. But for some reason if he's a Christian, you're allowed to pick on him."
And the Kiss singer didn't stop there, as he declared the irresponsibility of journalists to be the "height of lunacy."
This article first appeared here.