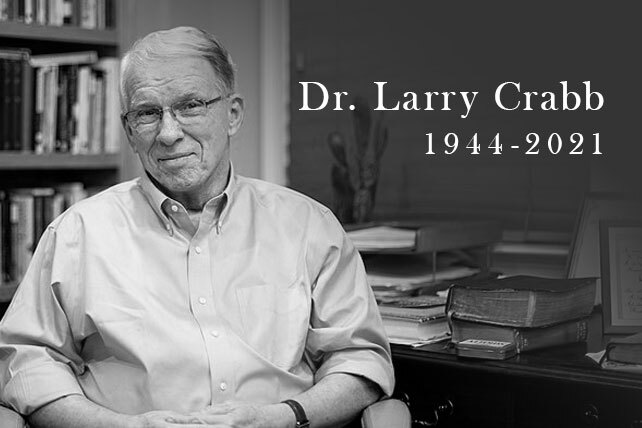 Christian counselor, author, and teacher Dr. Larry Crabb passed away on Feb. 28 at the age of 77. Key aspects of Crabb's legacy are his focus helping people to see themselves as part of God's "larger story" and his emphasis on the power of the gospel to change people's lives. 
"It is with great sadness and astonishing joy that we tell you of Dr. Larry Crabb's arrival in Heaven early Sunday morning," the team at Crabb's ministry, Larger Story, said in an statement on its website. "Heartache because we already miss him so much, and heartfelt delight because we each have a faint sense of just how much he is now enjoying the great celebration and perfect rest of life in the presence of the Trinity."
Said the team, "As one who taught so many of us that it is possible to trust no matter our circumstances or condition of soul, Larry can now testify to the unspeakable joy and unlimited goodness of God. It truly is well with his soul." 
Dr. Larry Crabb: Only the Gospel Can Change People
Dr. Larry Crabb was the founder and director of NewWay Ministries and the co-founder of Larger Story, both of which merged into one organization under Larger Story before Crabb's death. Crabb co-led Larger Story's School of Spiritual Direction, a week-long intensive that "offers a newly developed model of spiritual direction that draws on both the age-old wisdom of the church and more recent perspectives." Said Crabb, "I see it as offering the opportunity for our interior worlds and supernatural reality to meet."
Crabb served as the spiritual director of the American Association of Christian Counselors and was the author of more than 25 books, including "When God's Ways Make No Sense," "Inside Out," and "Understanding People: Why We Long for Relationship." The latter two books won Gold Medallion Awards from the Evangelical Christian Publishing Association.
Crabb also served as Distinguished Scholar in Residence and University Representative at Colorado Christian University (CCU) in Lakewood, Colo. CCU published a statement on Crabb's passing, in which CCU president Dr. Donald W. Sweeting said, 
We were heartbroken to learn of the passing of Dr. Larry Crabb, one of our biggest advocates and friends. He was a leader, an educator, and a spiritual adviser to many in the CCU community for a number of years. He had a passion for Christ-centered, biblically grounded psychology, and for seeing sound Christian counseling transform people's lives. He will be greatly missed by all of us at Colorado Christian University.
Crabb was affiliated with CCU for over 30 years. His many accomplishments during his time at the university included speaking at chapel, leading classes and seminars, and hosting "Senior Dessert Night." CCU also drew attention to Crabb's impact on the Master of Arts in Clinical Mental Health Counseling program, noting that the "master's degree in counseling is now the largest graduate-level degree program at Colorado Christian University." Because of Crabb's "extensive contributions" to CCU, in November 2018 the university dedicated the Larry J. Crabb Center for University Counseling in his honor.
On the Larger Story website, Crabb recounted how God moved in his life to help him find his identity and purpose as part of God's grand story for the world. "Throughout my journey, in the triumphs and tragedies," he said, "I've been consistently re-centered on this concept that my story finds its deepest meaning and purpose when I am living to tell God's story." He continued, 
I've often described my story as sovereign stumbling. I stumble and God kindly guides me. That is how I began studying psychology in college, and ultimately received my PhD in it. During my college years, I wrestled with doubt, questioning my faith. I didn't want to simply accept Christianity because it was a family tradition. I needed to know that my faith was deeply rooted in my heart.