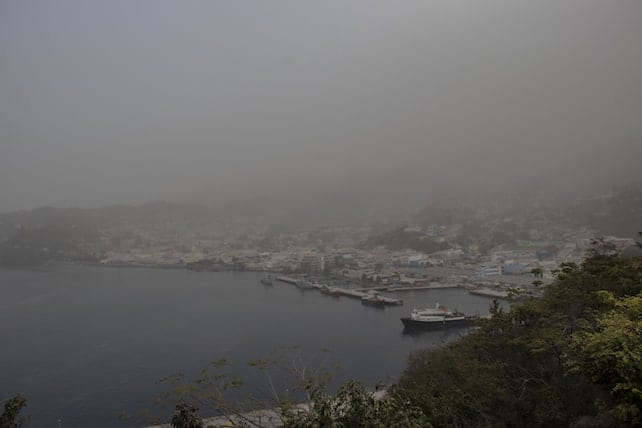 (RNS) — The Rev. Cecil Richards is working with members of his Kingstown Baptist Church to help feed people in St. Vincent who have been evacuated due to the volcanic eruption on the island nation.
Soon after the initial eruption on Friday (April 9), volunteers prepared 170 meals from their church kitchen to distribute to evacuees at shelters in the southern part of the main island. The total meals increased to 250 by Monday and, he hopes, 300 soon.
"That is only our immediate response," he said of his church that is usually attended by 250 to 300 people in nonpandemic times. "That can't be it."
The pastor is already looking ahead to longer-term needs of Vincentians, who last experienced an eruption in 1979. His church and other religious groups — including international relief agencies — are preparing to assist with physical and spiritual needs during what is expected to be a long recovery.
RELATED: After Dorian, Baptist leader and Bahamas native sees devastation, resilience
About 100,000 people live on the eastern Caribbean island, and some 16,000 to 20,000 were evacuated, the U.N. said. A Tuesday bulletin from the country's National Emergency Management Organization said 87 shelters had been opened and were housing more than 3,800 people.
On Monday, the U.N. reported the eruption had left the population on the main island of St. Vincent and the Grenadines — as the entire country is known — without clean water. Ash from La Soufrière volcano covered much of the country, weighing down plants and standing inches high on housetops.
"How do we counsel as they get stressed? How do we handle some of the emotional needs? How do we minister to them as an organization of faith, representing God?" Richards said. "These are all needs that we will as a church mobilize ourselves to meet."
A number of faith-based relief organizations are ramping up to help Vincentians prepare for recovery from the volcanic eruptions — which some scientists have predicted could continue to occur for weeks.
"Since there is ongoing volcanic activity, plans are not yet finalized, but UMCOR's initial plan is to provide funding and expertise so the local team can deliver basic human needs," said United Methodist Committee on Relief spokesman Dan Curran, "for people in the disaster shelters that are currently operational. Many are located in churches."
Food For The Poor, an interdenominational Florida-based organization, and Chabad-Lubavitch of St. Lucia, an Orthodox Jewish organization on a nearby island, have gathered supplies. The Primate's World Relief and Development Fund, a Canadian Anglican organization, is working with church representatives in both St. Lucia and Grenada, another neighboring island, to gather donations.