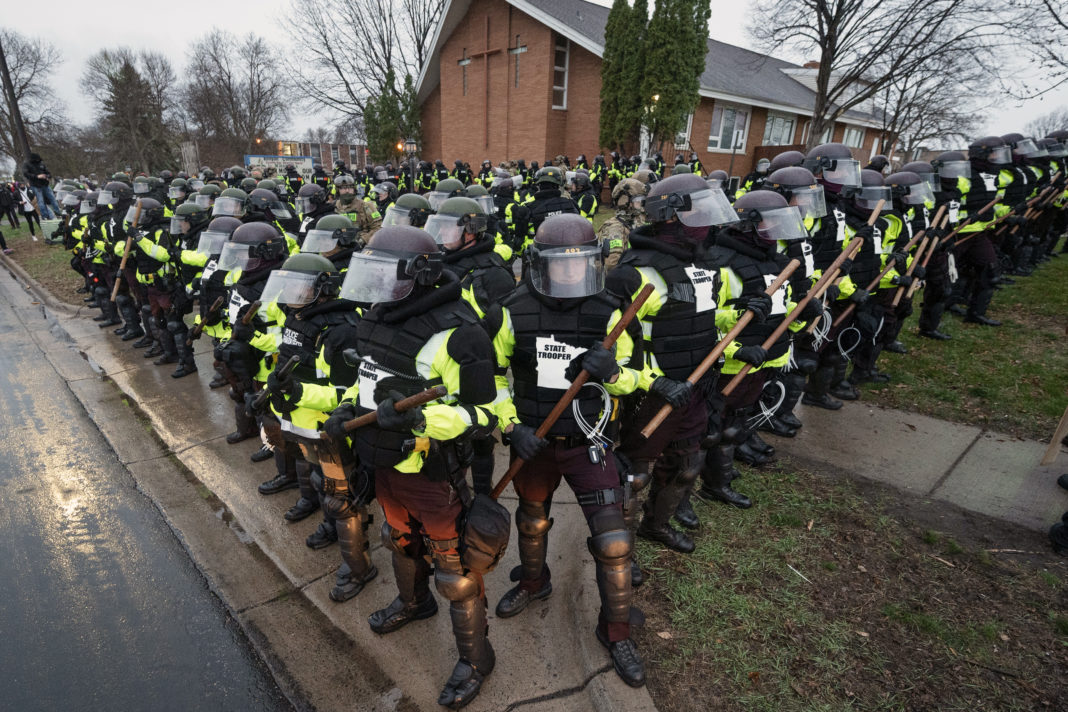 (RNS) — For more than a week, Simeon Momanyi has worked to strike a balance between abiding by law enforcement and ministering to protesters decrying racism and police brutality. It's a complex task: Kenyan Community Seventh-day Adventist Church, where he serves as pastor, is adjacent to a police precinct in Brooklyn Center, Minnesota, where protests have flared following the death of Daunte Wright, a 20-year-old Black man who was shot and killed by an officer earlier this month.
What's more, Brooklyn Center, a suburb of Minneapolis, lies ten miles from the spot where Officer Derek Chauvin was filmed killing George Floyd last year, sparking a wave of demonstrations across the country. Despite Chauvin's conviction by a jury on Tuesday (April 20), authorities in Minneapolis have prepared for potential unrest.
But moments before the verdict was read, Momanyi said no matter their decision, he intends to keep his church — which has been offering food and water to demonstrators — open.
"The church is a safe space where healing and hope happens," he said in a text message. "Regardless of the verdict, the church will always remain open and will continue serving the community."
From the 2014 racial justice protests in Ferguson, Missouri, to last summer's Black Lives Matter actions across the country to demonstrations over the shooting of Wright two weeks ago, churches have served as way stations. Many offer water and shade for those who have come out to express their outrage and shelter from police who have at times surrounded houses of worship when protesters take refuge inside.
Unlike some faith leaders and religious communities that have voiced full-throated support for racial justice demonstrators over the past year, Momanyi explained his church does not "necessarily take sides" regarding the demonstrations and has closed its doors when evening curfews went into effect.
Even houses of worship that don't take sides have been flashpoints, however. Momanyi's is one of at least two congregations that has found itself at the center of standoffs between police and racial justice demonstrators over the past week, both in Brooklyn Center. The churches' involvement with the demonstrations went viral over the weekend when a photo of police officers surrounding Kenyan Community Adventist was shared widely on social media.
The pastor told Religion News Service his congregation has opened its doors to offer a place of respite during daytime demonstrations. Kenyan Community Adventist coordinates with different community-based organizations in the area to allow volunteers to stand outside to offer food and water to protesters.
"If someone wants to pray, or just a place to rest during the day, they can come in," he said.
Momanyi said that while daytime demonstrations have been peaceful, a different group has often appeared in the evening that frequently engages in direct confrontations with police.
While he doesn't know the exact circumstances surrounding the image of police surrounding his church, he has a theory.