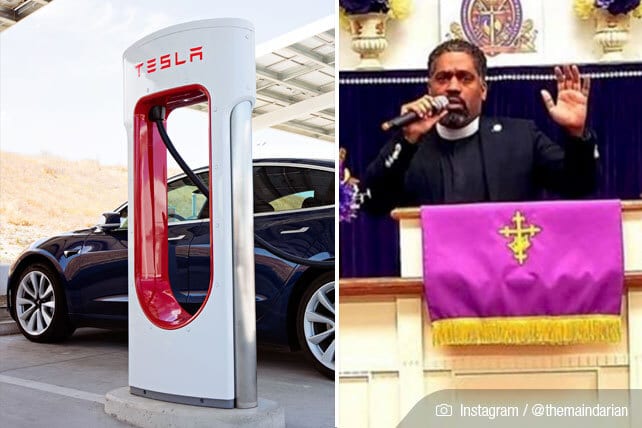 Maryland pastor Rudolph Brooks Jr., who is the senior pastor and founder of Washington, D.C.'s Kingdom Tabernacle of Restoration Ministries, has been charged with fraudulently obtaining $1.5 million in Payback Protection Program (PPP) loans. He allegedly used PPP money to purchase 39 cars, one of which was a 2018 Model 3 Tesla that cost $60k.
The U.S. Attorney's Office released a statement saying the 45-year-old Pastor Rudolph Brooks is facing up to 20 years in prison if he is convicted. The charges also claim he used the funds to purchase property in Baltimore. The U.S. Attorney's Office has seized 11 bank accounts totaling over $2.2 million.
In 2020, at the peak of the pandemic, over $665 billion dollars in PPP loans were approved and handed out. According to the PPP loan program, Brooks' purchases are not an appropriate use of PPP loan funds.
To apply for the PPP loans, the pastor used a company called Cars Direct which has him listed as the owner. The company which was forfeited in October 2010, was revived by Brooks in May 2020, two months after congress passed the CARES Act.
An arrest record shows that Brooks received over $1.5 million in PPP loans for his company Cars Direct by falsifying tax forms. Along with purchasing the Tesla, Brooks also purchased a 2017 Mercedes-Benz S Class, a 2005 Bentley Continental, and a 2015 Cadillac Escalade to name just a few of the 39 fraudulent purchases.
Brooks has also been accused of submitting fraudulent tax forms that "reported $724,469 in payments via Forms 1099-MISC and $7,471,630 in total unemployment payments to employees from Cars Direct." This led the IRS and the State of Maryland to investigate Brooks' Cars Direct company and later resulted in his arrest.
Senior Pastor Brooks' The Kingdom Tabernacle of Restoration Ministries website has since been disabled, but other outlets report Rudolph Brooks as "a man after God's own heart and has a passion for God's people." According to The Roys Report, the church website asked their people to "sow a seed"–a phrase commonly used by prosperity gospel churches when asking congregants for money that promises blessings from God in return.