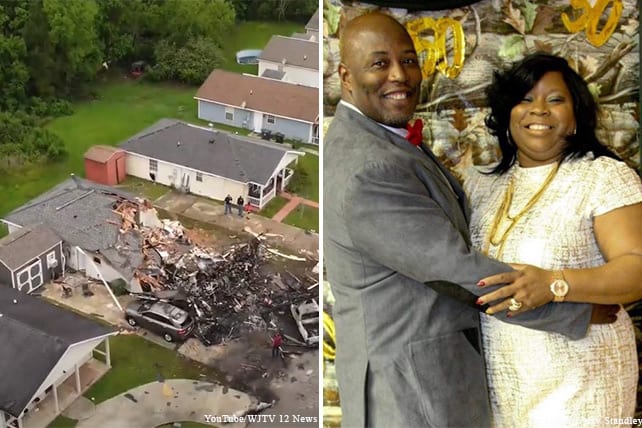 On Tuesday May 4, 2021, a small civilian plane crashed into a home in Hattiesburg, Miss., and killed 55-year-old Gerry Standley, an assistant pastor of Wayside Holy Temple church. The pastor and his family were sleeping.
Gerry Standley, a pillar of the community, just celebrated 22 years of marriage with his wife, Melinda. His wife, daughter, and grandson were able to get out of the house when it caught fire; Gerry tragically did not.
"We can't replace him," Gerry's younger brother Corbin Varnado told reporters. "We can't do what he did, but his young brothers, his sons, his nephews, we can come together and uphold the family like he would. He was a remarkable man. I admire him so much just from his relationship with God, his relationship with his wife, his family. He connected with everyone. Everyone loved him, he loved everyone. It's going to be tough to be without him."
Wayside Holy Temple Church's Marion Huges told WJTV news, "He was just a gentle giant and many of the young people knew him like a 'fatherly figure'…because he took time with them. He set an example for them."
Gerry's Facebook page is flooded with Bible verses he posted almost every day, and one of his last posts a few days before his passing was the verse from Nahum 1:7 that reads, "The Lord is good, a strong hold in the day of trouble; and he knoweth them that trust in him."
All three aboard the decent sized Mitsubishi M-2B-60 plane were also killed. They were traveling to the University of Southern Mississippi for a commencement ceremony. Louis Provenza (67) a neurosurgeon from Wichita Falls, Texas, Anna Calhoun a junior at Midwestern State University in Wichita Falls, Texas (23), and her 2-year-old daughter Harper all perished.
How to Help
A GoFundMe Campaign has been set up to help Melinda, the wife of Gerry Standley, cover funeral expenses, bills, and any other items lost from the unspeakable tragedy. Over 12k dollars have been raised at the time this article was released. Hattiesburg Police Department where Melinda works as a dispatch division manager has also set up a fund that you can give to at the station if you live nearby.
Varnado said the support "means a lot. Nowadays, in time we need more community bonding."