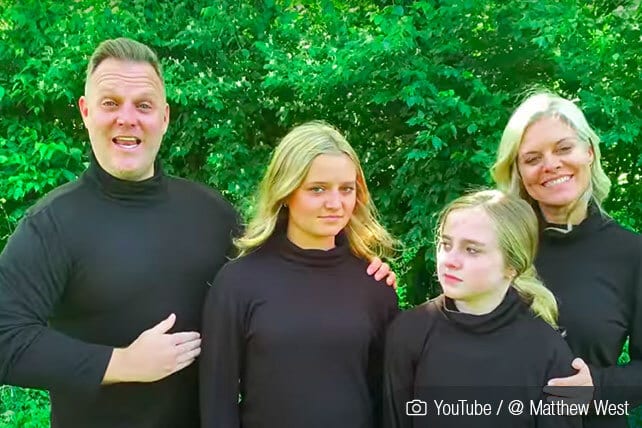 Christian singer and songwriter Matthew West has said that the purpose of his new music video, "Modest is Hottest," is to remind his daughters that their value does not depend on their outward appearance. However, many see the song as perpetuating damaging purity culture messages that shame women for men's lust. 
"My daughter's [sic] might actually disown me after this one, " West joked on Twitter. "It's for all of the fathers out there whose daughters are joining TikTok and starting to date. The struggle is real." 
West described the song as a "light-hearted take on an age-old struggle" and added: "As a dad raising daughters, this song is my ridiculously silly way of reminding them that their appearance doesn't define them. While the world might focus on the outward appearance, the Lord looks at the heart. Regardless, they are beautiful inside and out! (Even in turtlenecks)."
Matthew West's 'Modest Is Hottest'
Matthew West's video, which features West, his wife, and his two daughters. is clearly intended to be cheesy and over-the-top. But it is not a satire.
West opens the song telling his daughters that he has tried to raise them well. But now "the boys are coming round 'cause you're beautiful," so he wants to give them some advice about the clothes that they're wearing. The lyrics say:
Modest is hottest, the latest fashion trend
Is a little more Amish, a little less Kardashian
What the boys really love is a turtleneck and a sensible pair of slacks
Honey, modest is hottest, sincerely, your dad
If I catch you doing dances on TikTok
In a crop top, so help me God
You'll be grounded till the world stops
I'm just kidding, no I'm not
The song seems to come from Matthew West's genuine anxieties as a father over his daughters as they are growing up. He wants them to make good decisions about how they dress, so he decided to make a tongue-in-cheek song about his concerns. Many of the people who reacted to the video on Facebook took it that way. 
"This is a sweet song and video," said one. "It [is] hard for amazing fathers to see their little girls grow up. Keep pouring the values and God's word into them." Said another, "You deliver hilarious and creative lyrics with a heart behind them. Love watching your whole family having fun in this video. Great job again!"
However, other Facebook users were troubled by the song. One woman said, "Since we're teaching girls about dressing modestly and I believe it's important to teach them to ask themselves the question but isn't it just as important to teach the boys as well….just a thought." 
"I am disgusted by this song and this 'artist,'" said another, "and feel horrible for his daughters to have to grow up being told that what they wear defines them and that what they wear is responsible for the actions of the males around them. This is the type of man who claims a women [sic] was 'asking' to be raped because of what she was wearing."
Another pointed out the song's ties to purity culture: "Purity culture has messed up a bunch of us so maybe this is a little tone deaf."