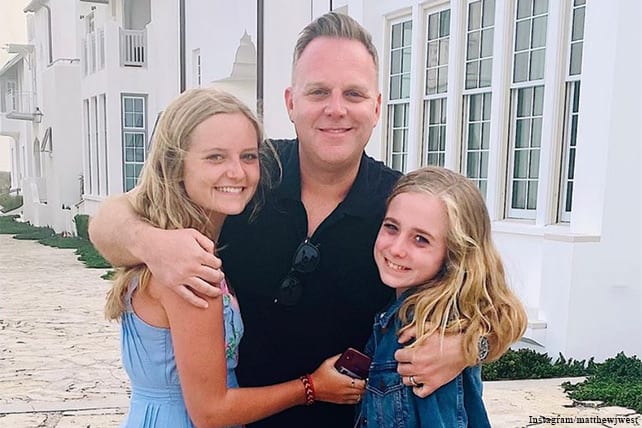 Christian singer and Dove Award winning 'Songwriter of the Year' Matthew West took to social media to clear the air regarding his recent "Modest is Hottest" video, which has since been scrubbed from all platforms.
The song was written as a "light-hearted take on an age-old struggle," West said in a Tweet that has been deleted. He introduced the song as a "ridiculously silly way" of reminding his daughters their appearance doesn't "define them." As the world tends to focus on the appearance on the outside "the Lord looks at the heart. Regardless, [my daughters] are beautiful inside and out! (Even in turtlenecks)."
Matthew West Explains It Was Satire
West told his followers the video about his two amazing daughters was "created as satire" poking fun at himself as an "over-protective dad," but he has taken to heart the feedback it received, a lot of which was negative. West said to offend was not his intention.
The "Broken Things" singer wrote: "The last thing I want is to distract from the real reason why I make music," which is "to spread a message of hope and love to the world."
Here is Matthew West's full response on Instagram:
"I'm blessed to be the father of two amazing daughters. I wrote a song poking fun at myself for being an over-protective dad and my family thought it was funny. The song was created as satire, and I realize that some people did not receive it as it was intended. I've taken the feedback to heart. The last thing I want is to distract from the real reason why I make music: to spread a message of hope and love to the world. Proud #girldad."
Read: Is Matthew West's 'Modest Is Hottest' Video Really a 'Lighthearted Take' on Modesty?
Many Questioned West's Song
One commenter who was troubled by the song wrote, "How do you think your daughters feel? The start of the song says that boys are looking at your daughters only because they're beautiful. What about their love of Jesus? Or their personality? I'm saying that you have told your daughters that the only reason that boys want them is because of their bodies."
Another commenter wrote, "This is triggering for me. Purity/modesty culture is toxic in so many ways."
Oklahoma pastor Jeremy Coleman explained his concerns with West's song in Newsweek, saying he has "the same concern with purity culture as a whole. We are telling our daughters and young women that their body image should be defined by someone else's opinion. Women should feel confident, comfortable and free to dress and express themselves however they want. Telling them to dress a certain way to be 'less attractive' is reverse body shaming. We are in essence telling them that they should be uncomfortable with who they are because of what others, namely men, think of their body."
Followers Respond to West's Explanation: "We Love the Song!"
Mark Hall from Casting Crowns commented on West's post, saying, "Anyone who knows you, your family, and your music, knows that you have a heart for Jesus and the church and people. @matthewjwest I want to thank you for your ministry and for your humor. We love the song! And we love you!"
New York Bestselling Christian author Karen Kingsbury commented, "Who in the world could have a problem with that?? Stay you, Matthew!!! The song is hilarious and brilliant!!"
Bestselling author and speaker Jon Gordon said, "You are the best and have an amazing heart. You are a great father! You are a great musician. You have led and continue to lead many to Jesus, and the world is better because of you."
Emmy award-winning director Will Stewart wrote, "That was a great song! People are offended too easily. I hope you didn't take it down. It was clearly satire."
Matthew's wife Emily West told her husband, "You're the best father to our girls and husband. Let's get back to focusing on what matters most. Love you!"
Annie F. Downs, who is a New York Times bestselling author and a popular podcaster, made the comment, "You're a good man, Matthew West."
West's Other Satire Video
This isn't Matthew West first satire video. In the year of the pandemic 2020, the West family released a video titled "Quarantine Life" that provided some comic relief for those who could relate to the pause on normal life the year brought.
In his song that has been viewed over 40k times he says,
Last night I dreamed I went to Starbucks
I heard 'em say "Welcome back"
Then I woke up and drank a bad cup of coffee
Through a homemade mask
Quarantine life, quarantine life
Friday night toilet paper shopping online
Quarantine life, quarantine life
Made the Tiger King famous overnight
I wanna leave my house
I wanna touch my face
I wanna hug my friends
I never thought I'd say
I wanna go to work
I wanna wear some pants
Kids to go to school
I love 'em but, oh man!