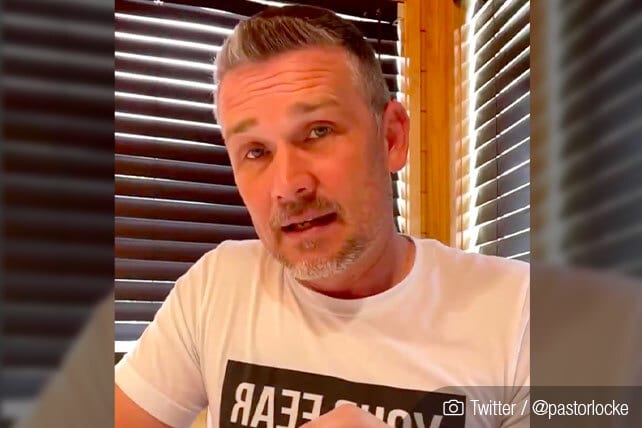 Pastor Greg Locke, who's known for making strong political statements, used yesterday's sermon to claim that Donald Trump is still America's "legitimate" president and to warn of child-trafficking tunnels underneath the White House. Locke, pastor of Global Vision Bible Church in Mt. Juliet, Tennessee, also says he intends to sue the "pants off" CNN and Newsweek for their coverage of him and his church.
Pastor Greg Locke Insists Trump Remains in Power
In his June 27 sermon titled "When God Brings Down the House," Locke reiterates claims that President Joe Biden is "demon possessed," that Vice President Kamala Harris is a "Jezebel demon," and that former President Donald Trump "is the legitimate president of the United States of America." Locke says, "You've got to smoke a lot of dope in your mom's basement not to believe that fact."
Congregants stand and applaud as Locke says, "I don't care what you think about fraudulent 'Sleepy Joe.' He's a sex-trafficking, demon-possessed mongrel. He's of the Left. He ain't no better than the Pope [Francis] and Oprah Winfrey and Tom Hanks and the rest of that wicked crowd. God is going to bring the whole house down!" A clip from the sermon posted by Right Wing Watch received more than 1.8 million views by Monday morning.
The pastor's comments echo the unproven conspiracy theories of QAnon, but he refuses to back down or to admit Trump's defeat. When people ask Locke whether he's a false prophet, he responds by calling Biden a "fake president," asking "When y'all going to get the memo that I didn't get it wrong?"
Throughout the pandemic, Locke, 44, made headlines for telling people to remove their "stupid masks" and for calling the COVID-19 vaccine "sugar water." After Twitter suspended his account for seven days in May, Locke wrote that "being censored only gave me more resolve." His recent tweets include "Mike Pence is a Judas" (June 3) and "STOP LISTENING TO [Dr. Anthony] FAUCI. He is a lying, genocidal psychopath" (May 28).
Pastor Greg Locke Isn't Happy With Media Coverage
Although Locke's comments seem tailored to attract attention, he's not a fan of recent media reports. CNN recently described Locke as a pastor who preaches "the big lie" and taps into the "pro-Trump vein of Christian nationalism." In response, Locke tweeted that CNN "painted an entire narrative that is made up." The pastor adds that he's "emboldened" by CNN's "trashy documentary calling me and others insurrectionists."
Newsweek also is in Locke's crosshairs for its frequent articles about him. In a June 25 video posted to Twitter, Locke says the magazine "totally crossed the line" with its "libel, slander [and] deceptive nonsense." By misquoting him, the pastor claims, Newsweek "put a massive target on my back…and on the backs of our church people."
Locke, who says "fake news devils" are "trying to destroy us," told congregants Sunday that "one of the best defamation lawyers on the planet" just took up the church's "slam dunk case" against CNN and Newsweek.
On the "Friendly Atheist" blog, Hemant Mehta writes that Locke "likes whipping people into a frenzy, not ministering to them." He adds, "It's hard to 'defame' someone whose entire schtick is saying the most awful things imaginable to a congregation full of ignorant people. It's hard to make Locke look worse than he really is. You don't need to defame someone when quoting his own rhetoric does plenty of damage to his reputation and faith."