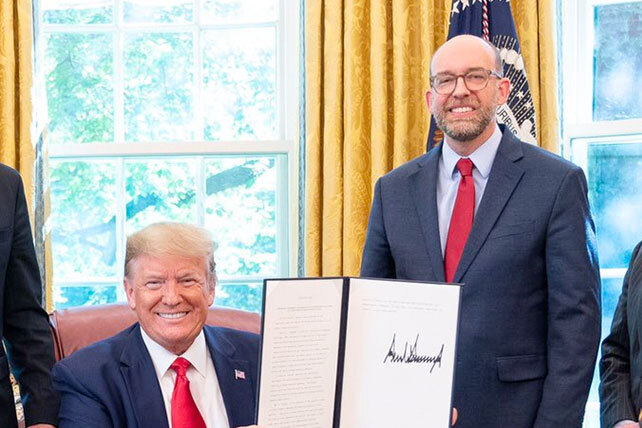 (RNS) — Russ Vought believes in fighting racism — as long as it is defined properly.
A former Trump administration official and Wheaton College graduate, Vought defines racism as "personal prejudice that flows from ignorance and treating people differently as a result of that prejudice."
By contrast, he said, proponents of critical race theory see racism as a systemic problem — not an individual one — that has infected every part of society. That's led Vought, president of the Center for Renewing America, to become a behind-the-scenes leader in the battle over CRT being fought in churches and school boards around the country,
In an interview with Religion News Service, Vought said his organization does not object to discussions of racism or discrimination. But CRT advocates go too far.
"They don't want equality of opportunity, they want equality of outcomes," he said. "That is problematic because then you have no ability to ever live in a colorblind society. And it's the rejection of a colorblind society that we find so problematic."
The debate over critical race theory, an academic field of study dedicated to understanding the effects of systemic racism, has led to fisticuffs and angry debates at local school boards around the country, with claims that schools are teaching dangerous and divisive ideology that creates racial animosity.
Vought became involved in anti-CRT efforts during the Trump administration. While he was director of the Office of Management and Budget, part of his role was to implement the president's executive order banning funding for CRT and other diversity training.
"The days of taxpayer funded indoctrination trainings that sow division and racism are over," Vought tweeted in September 2020.
The days of taxpayer funded indoctrination trainings that sow division and racism are over. Under the direction of @POTUS we are directing agencies to halt critical race theory trainings immediately.https://t.co/dyMeJka9rt

— Russ Vought (@RussVought45) September 4, 2020