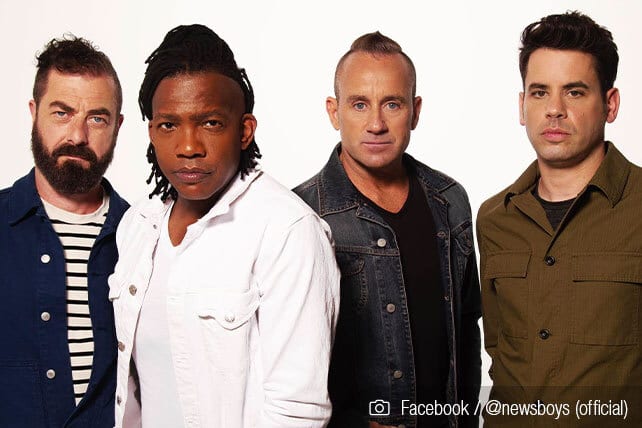 After an August 13 concert in Indiana, the contemporary Christian band Newsboys will return to its four-member format. For the past three years, the group has toured as Newsboys United after welcoming back original members Peter Furler and Phil Joel.
On social media, Newsboys members Michael Tait, Jody Davis, Duncan Phillips, and Jeff Frankenstein announced the wrap-up of the band's reunion chapter, calling it "one of the best experiences of our career." Furler and Joel plan to resume their solo efforts.
Newsboys 'Refreshed' After Unexpected Down Time
In the July 17 announcement, Newsboys expresses gratitude to the two original members for their time with Newsboys United and for their creative contributions. "We've traveled North America together, performed hundreds of concerts, rekindled old friendships, made lots of new memories, had a LOT of laughs, and released an album," they write, referring to the expanded group's 2019 project "United." "Coming together as a UNITED family is something we will forever be grateful for." Newsboys adds that their team "has been a family from the beginning" and "that will never change."
The band also reveals how it spent the pandemic, writing, "The last 15 months have been a time of change for all of us, yet we're looking ahead to the future—feeling refreshed from unanticipated time at home with our families and extra time in the studio. We've grown closer together, experienced a renewed excitement for making music, and worked harder than ever to create a new record we are proud of. We are excited to share it with you all very soon."
That album is slated for an October release. "Magnetic," the album's first single, dropped earlier this summer, featuring the four-member group.
Newsboys' Appearances Make Some Waves
Last week, Newsboys announced it will be joining Franklin Graham and the Billy Graham Evangelistic Association this fall on the "God Loves You Tour," an eight-city event along Route 66. Also last week, band members Tait and Phillips were interviewed during a Newsmax "Faith in America" segment. The musicians discussed the improving quality of Christian rock as well as the outreach opportunities it provides.
Tait describes the band's ongoing efforts to connect with people through the powerful, God-given tool of music. "People want to hear a positive message," especially after the pandemic, he says. "They want to hear about life and the pursuit of happiness, and we get to be conduits of that through our music."
On social media, some fans expressed disappointment that the group appeared on Newsmax, a conservative-leaning network that gained popularity after former President Trump praised it. "I'd rather you stay away from a network that encourages hate of any kind. Left or right," one person writes. Another notes, "Oh come on. First Franklin Graham and now this? Never again for tickets or music."
Newsboys formed in Australia in 1985, and Tait, formerly of dc Talk, became the lead singer in 2010. The group released its album "God's Not Dead" in 2011 and appeared in the film of the same name in 2014—and in a sequel two years later.