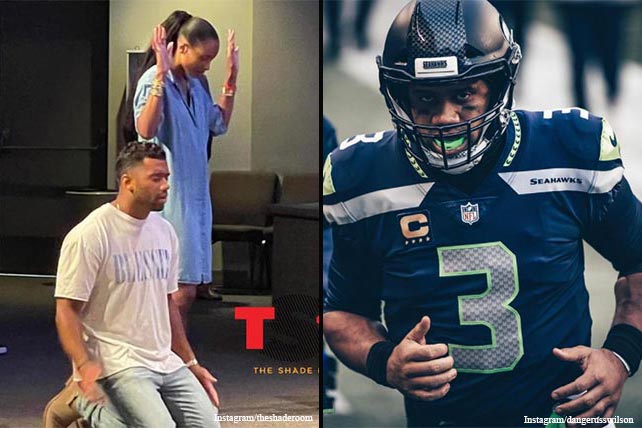 With NFL training camps in full swing, and tonight's Hall of Fame game kicking off the 2021 preseason, photos of football players are everywhere. But should they be? That question is being asked after someone posted to social media a picture of Seattle Seahawks quarterback Russell Wilson and his wife, singer Ciara, worshiping at church.
The celebrity couple, who are outspoken about their Christian faith, appear to be praying. With eyes closed, Russell, 32, is kneeling on the floor, and Ciara, 35, is standing next to him with her arms raised.
An Instagram user named theshaderoom posted the photo with this caption: "When [Russell] Wilson and Ciara are at ur church bowing to Christ, I didn't take the pic the guy next to me did. I just think it's fire to see. Gods so good."
Reaction to Worship Photo Is Mixed
The photo quickly received more than 800,000 likes, but not everyone likes the idea of private worship experiences being made public, especially without permission. Many people are calling the image disrespectful, with one Instagram user writing, "There's a time and place for pictures and this ain't it." Another commented, "Social media is ruining humanity. No way should we see these people having a private moment with God."
Others, however, applaud the Christian witness of Russell and Ciara Wilson. "A couple that prays together, stays together!" one person writes.
Another comment sums up the mixed reactions to seeing the image: "It's weird…[someone] took a photo of them while praising Jesus, but then again this does spread a good message. I'm not mad but whoever took the pic should be more focused" on their own worship experience.
Russell Wilson Speaks Often About His Faith
Russell Wilson, who's starting his 10th NFL season—all with the Seahawks—is the 2020 Walter Payton NFL Man of the Year. While accepting the award, given for charitable work and community impact, Wilson repeated the phrase, "Love changes things," and alluded to the Bible's well-known chapter on love, 1 Corinthians 13.
"Love is patient, love is kind," the QB said in February. "To the young boy or girl who has a dream, who wants to make a difference, remember this one thing: Love always protects, always trusts, always hopes, always perseveres. Love changes things."
Wilson often posts Bible verses on social media, and his Twitter bio reads, "I want to Love like Jesus!" On Wednesday, he posted a photo of his 1-year-old son taking his first steps, which happened to occur on the gridiron.
"Win's first steps! Witnessing Win walk at practice it hit me that God orders our steps. I realize I'm just a Rookie in the Game of Life. Jesus is the QB. Let Go & Let God!" Wilson concluded the post with the words of Proverbs 16:9, NIV: "In their hearts humans plan their course, but the Lord establishes their steps."
Before marrying Ciara in 2016, Wilson was open about the couple's decision to abstain from sex before marriage. In a 2015 interview, the QB said, "In terms of my legacy off the field, I want to be a Christian man that helps lead and helps change lives and helps serve other people. It's not about me, you know." He added, "In terms of my faith, my faith is everything: God comes first, family and friends come second, and football comes third. I think when you keep it in that order, great things happen to you. You don't stress out about much."