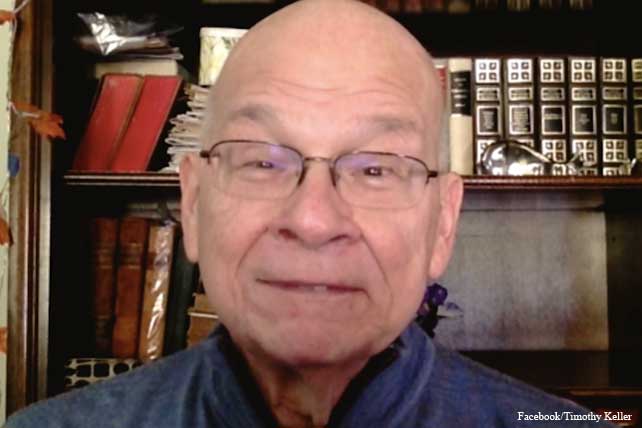 Tim Keller posted a Facebook update for his followers on Sunday regarding his cancer diagnosis. Keller revealed that his doctor increased his chemotherapy after discovering a "mystery lump" that tested cancerous.
The Prodigal God: Recovering the Heart of the Christian Faith author, Keller, thanked his friends for praying for he and his wife Kathy as they are navigating "treatment, isolation, COVID," and asked specifically for prayers that they'd "run the race God has set before us with joy."
Keller had surgery to remove several nodules this past May, and while a recent August scan showed that the primary tumor has not progressed, a "mystery lump" was discovered under the scar from May's surgery. That lump was removed and "proved to be cancerous."
Therefore, Keller, who is 70 years old, said his doctor is playing it safe and returning to the level of chemotherapy he was regimented to a couple of months earlier.
Related article: Tim Keller Congratulates Atheist on Harvard Chaplain Presidency; Evangelical Defends Vote
Although chemotherapy side effects can include neuropathy and other challenges, the retired pastor said he is hopeful he won't miss any of his obligations or scheduled teachings.
Please join us at ChurchLeaders as we keep Tim Keller and his family in our prayers.
Read Keller's entire social media post from this past Sunday below:
Friends,
Thank you so much for your continued prayers for my cancer treatment. We are well aware of your prayers and their power in holding us up to God and holding us together as we navigate treatment, isolation, and Covid.
After surgery last May, I was granted a "chemo holiday" (missing one treatment) and was able to get out of town with my family for several weeks. On August 23, I had a scan and the primary tumor had not progressed. However, a mystery lump underneath the May surgical scar was removed and proved to be cancerous.
Just to be safe, my doctor has increased my chemotherapy back to the level it was before, which has more side effects, but, we hope, more therapeutic effects. Pancreatic cancer is able to learn how to evade medication, so it is only God's power that we look to for complete healing.
Please do pray that I will be able to fulfill my teaching and other obligations, and that the neuropathy and other side effects will be minimal while the medication will be effective against the cancer, and that we will run the race God has set before us with joy.