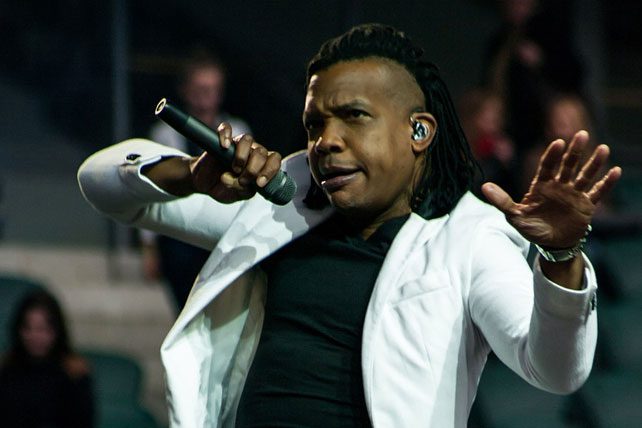 In a recent interview with Christian Post reporter Jeannie Law to promote his band's newest album STAND, Newsboys Lead Singer Michael Tait opened up about the struggles of the pandemic, doubt and deconstruction, and racism within the Christian music industry. 
While discussing the challenges of COVID-19, which put an end to the Newsboys' touring plans for the better part of 18 months, Law expressed that it seems many Christians have been deconstructing away from their faith during this time. 
Agreeing with Law, Tait said, "And when that first happened…I felt like God was receding, like He was pulling away. And then it hit me at the same moment: He's not receding. But He is re-seeding in this period. So don't think that He's pulling away."
Tait went on to explain that this realization is what led to the song Magnetic. "Magnetic came from the fact that God pulls us, man. He's not going to, you know, bum rush His way into our lives, but he's going to make it known that, if His hand's on us, He's going to chase you down relentlessly," Tait said.
Tait went on to say, "And your arms are too short to box with God. So you want to surrender and say, 'Lord, I don't know what's going on. I'm not sure what tomorrow holds. I'm not sure I'm going to make it through this pandemic. But I know one thing that's sure and consistent, and that's You. Because You're the same everyday, yesterday, and tomorrow. We believe it, we sing about it. You're not dead. You're alive.'"
Tait on Taking A Stand
Law then asked Tait about the Newsboys' new album entitled STAND, saying that as she looks at daily headlines, she wonders where America stands as a "Christian nation."
Tait said, "My dad would always say when we were kids, 'If we don't stand for something, we'll fall for anything.' And it's true. I think now more than ever, our faith is being questioned…Do we cower away, or are we bold about it? You know, morality issues…life issues — so much going on." 
RELATED: Did Switchfoot's Jon Foreman Affirm the LGBTQ+ Community?
Tait emphasized the need to take a stand in the midst of uncertainty. "You can't walk the fence. You can't be in the middle. You have to choose left or right. And it's a pretty scary thing to be thinking about sometimes — if you find yourself [saying], 'Okay, well I'm not sure where I stand on this,' and it's clear that you should stand on a certain point. And you're having to question that — people deconstructing their faith and stuff like that. That all went into that song," Tait said, referring to the album's titular track.