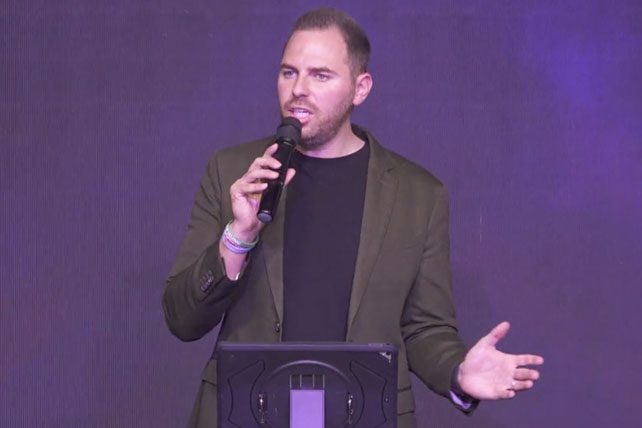 Lead pastor of Sheridan Church in Tulsa, OK Jackson Lahmeyer told his congregation this past weekend that "It's time to shout it in the halls of Congress that Jesus is King." Lahmeyer is a U.S. Senatorial candidate for Oklahoma in the 2022 midterm elections. 
On his campaign website, Lahmeyer describes himself as a "Conservative Outsider," vowing to support "President Trump's America First Agenda," "investigate the 2020 Presidential election," and "stop the radical left's agenda." He has received an endorsement from former national security advisor, General Michael Flynn, who pled guilty to lying to FBI about communications with Russia, sought to reverse that plea, and was eventually pardoned by Trump. 
Describing his work as a pastor, Lahmeyer's website says, "During Covid's lockdowns and mask mandates, Lahmeyer kept his church open, despite escalating legal threats from Tulsa County — and Lahmeyer won." Lahmeyer has said that he has signed thousands of vaccine exemption forms, a service he has offered for a one-time donation of any amount to his church. 
Lahmeyer has used Sheridan Church as a platform for his political campaign, hosting an "Audit the Vote" rally in the church's auditorium. 
Arizona State Senator Joins Lahmeyer Onstage to Talk Election Fraud
During the service on Sunday, October 3, which was streamed to Sheridan Church's Facebook page, Lahmeyer invited Arizona State Senator Wendy Rogers to take the stage. Rogers had previously participated in Lahmeyer's "Audit the Vote" rally. 
In her remarks, which alluded to the Arizona election audit, Rogers said, "We are at a precipitously precarious position. We're on the edge. And if we, as Christians, don't exercise our authority to proclaim the truth, who will?" The Republican-backed election audit discovered no evidence of election fraud, despite the claims of former president Donald Trump and others. 
"It is up to us to hold our state senators and state representatives accountable. It's up to us. And, little secret: there are more of us than there are of them. So everywhere I go, I proclaim that we are Christians. This is a country based on God. We should be proud of that. We should embrace that," Rogers said. 
Rogers went on to emphasize the need for Christians to remain vigilant, saying, "With the schools, with the hospitals — hospitals are purposefully trying to kill us." It is unclear what Rogers was referring to. 
RELATED: Florida Pastor, Son and Congregant Face Federal Charges for Capitol Riot