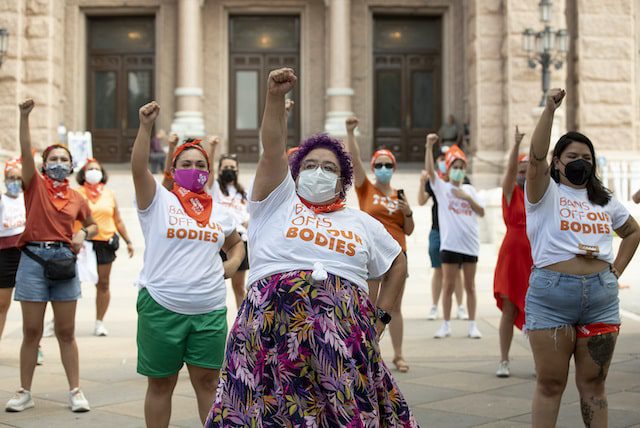 UPDATED October 12, 2021: Days after a controversial abortion law in Texas was blocked and then resinstated, the U.S. Justice Department is pushing to block it again.
On Oct. 6, a federal judge ordered the state to stop enforcing the law, but a three-judge panel on the U.S. Court of Appeals for the 5th Circuit reinstated it Friday, Oct. 8. During that two-day time period, abortion providers hurriedly resumed services, despite the questionable legality of doing so.
The decision to reinstate the law is only temporary, and Monday night, the Justice Department asked the 5th Circuit court to suspend it. "By both defying the Constitution and frustrating judicial review," said the Justice Department, "Texas has not merely protracted its assault on the rights of its citizens; it has repudiated its obligations under our national compact in a manner that directly implicates sovereign interests of the United States."
The law will remain in effect until the three-judge panel once again rules on it. The Supreme Court rejected an opportunity to block the law the day it went into effect and could very well be asked to weigh in on the matter again.
---
ChurchLeaders original article published October 7, 2021.
Pushback continues against America's most restrictive abortion law, which has been in effect in Texas since September 1. On Wednesday, a federal judge ordered the state to stop enforcing it—a move that state officials say they're already appealing.
Meanwhile, parody legislation in other states is taking aim at what abortion proponents call oppressive, unconstitutional restrictions on women's freedoms. A state representative in Pennsylvania proposes vasectomies for men, and an Illinois representative says anyone who commits sexual assault or causes an "unintended pregnancy" should be liable for $10,000 in damages.
Both proposals mirror language from the controversial Texas abortion law, which bans most abortions after a fetal heartbeat can be detected, at about six weeks' gestation. That law, which the U.S. Supreme Court allowed to go into effect, grants enforcement powers to private citizens, who may collect damages from abortion providers.