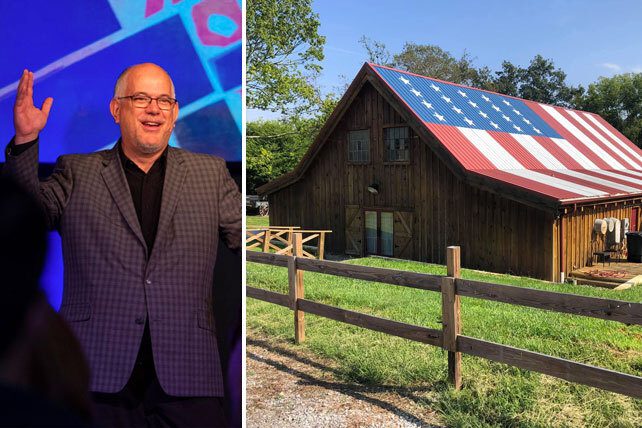 In a recent episode of NBC's Meet the Press Reports, Chuck Todd and Ann Thompson explored the widening division between traditionally conservative evangelical Christians and white Christian nationalists. 
"There are many evangelicals who want to move on from Donald Trump, those that are concerned that the devotional has taken a backseat to the political and that the very term evangelical has lost its religious meaning altogether. But they are in the minority," Todd said, noting that three out of five evangelicals believe the election was stolen from Donald Trump.
Ann Thompson reported from Knoxville, TN, contrasting the visions and practices of two local churches to illustrate the growing divide among white evangelicals.
Patriot Church Pastor Calls Fellow Evangelicals 'Cowardly'
Founded by pastor Ken Peters, Patriot Church in Knoxville, TN sees the Christian faith and conservative politics as one in the same. Patriot Church has also organized a church network, which bears the same name. 
The church meets in a building with a roof painted to resemble an American flag and is unashamedly political. According to their website, they see "countering leftist radicalism in cities all over the USA" as central to their mission. 
At Patriot Church, Peters can be heard from the pulpit denouncing the Biden Administration, COVID-19 vaccinations, election integrity, and those whom he refers to as "leftists."
The church's website says that Patriot Church is seeking to start a movement, because they believe America "is under attack by demonic principalities and powers. They are destroying the very cultural and religious fabric that makes the USA so special. Their evil agenda is cloaked in phrases such as, 'end racism', 'redistribute wealth to the disadvantaged', and 'open borders'. Their outright Marxist propaganda bombards us daily." 
"A new set of values is being pushed on us," Peters told Thompson. When Thompson asked Peters whose values he believes are being placed on him, Peters said, "Leftist, worldly values. They can't stand Christian culture."
RELATED: Survey: 'Great Replacement' Belief Correlates With Christian Nationalist Views
Peters went on to refer to former president Donald Trump as a "miracle," comparing him to Balaam's donkey from a story in the book of Numbers. Admitting that Trump is an "imperfect vessel," Peters nevertheless expressed his belief that Trump was chosen by God to be a "champion" for God's people.