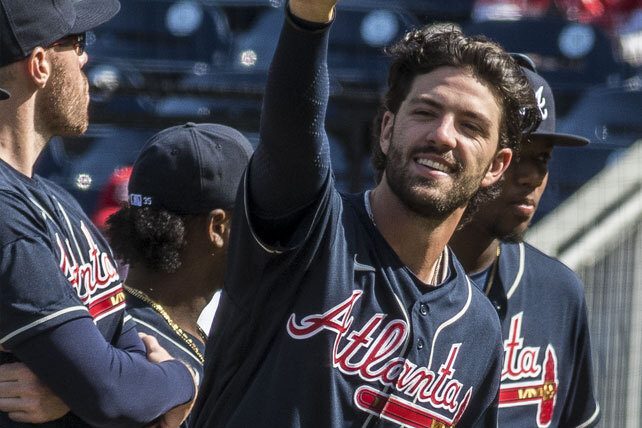 After helping his hometown of Atlanta clinch a long-awaited World Series title Tuesday night, Braves player Dansby Swanson praised "the good Lord," who has "blessed me so much." The 27-year-old shortstop, who calls himself "an Atlanta lifer," was just a toddler when the city last celebrated a championship, in 1995.
"I wouldn't be here without [God]," Swanson said after the Braves defeated the Houston Astros in Tuesday's deciding game six. "Just the peace that he gives me, it's remarkable. Especially in moments like this, you can never go wrong trusting in that. I'm just so thankful."
Dansby Swanson: Spiritual Growth Contributed to On-Field Success
Dansby Swanson has been vocal about efforts to improve his mental health and strengthen his relationship with God. On a Sports Spectrum podcast earlier this year, he opened up about struggles with anxiety and fear that "paralyzed" him at times. The shortstop credits several people with helping him better cope with tough emotions while growing closer to God.
Swanson and his girlfriend, U.S. soccer star Mallory Pugh, started a Bible study with the Braves chaplain. A mental wellness coach helped Swanson build a routine that included regular time digging into Scripture. And pastors at Cross Point Church in Nashville prayed over Swanson when he attended a worship service there.
In addition, Brooks Webb, general manager of the baseball team at Vanderbilt, where Swanson played college ball, mentored him spiritually. The advice from Webb that "really stuck with me," Swanson says, is that his best year career-wise would follow his strongest year faith-wise. "I don't think it's any coincidence that it's because of how much my spiritual life had grown," the athlete said about his strong performance last season.
Dansby Swanson Embraces God's Calling and Timing
By spending time in prayer and Bible study, Dansby Swanson says, he felt more connected to God and to God's calling. "I really was embracing who he had made me to be," he says. As he grew spiritually, the athlete says he began to trust God more and put his worries into God's hands.