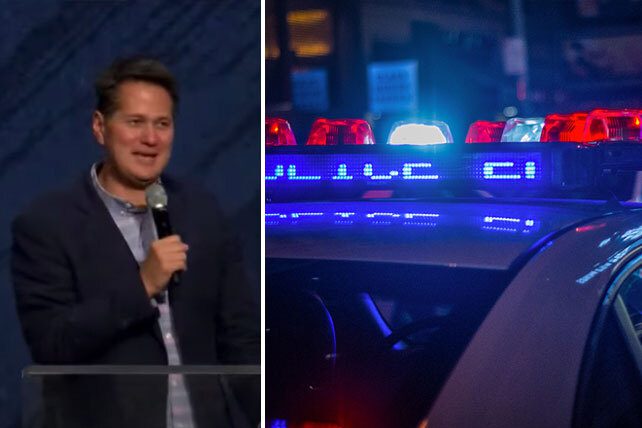 John Blanchard, lead pastor of Rock Church International in Virginia Beach, VA, is one of 17 men arrested on Friday (Oct 29) for solicitation of prostitution from a minor after law enforcement conducted an online sting. 
Blanchard, 51, appeared onstage at Rock Church on Sunday, October 31. His arrest and charges were not disclosed or addressed from the stage. According to the church's website, Blanchard has been the lead pastor of the church since 2013. 
Blanchard Arrested
According to NBC affiliate WAVY, Blanchard and the other suspects thought they were corresponding online with minors, whom they were soliciting for sex, but were actually speaking with detectives from the Chesterfield County Police Special Victims Unit. 
Each of the suspects arranged to meet with the fictitious minors, and they were met by police upon arriving at the agreed-upon locations. 
RELATED: Rhode Island Priest Facing Child Pornography Charges
Blanchard was later released on bond and is being charged with solicitation of prostitution from a minor age 16 or older and using a vehicle to promote prostitution or unlawful sex. 
Blanchard Appears Onstage at Church Two Days Later
Blanchard appeared onstage at Rock Church two days later on Sunday, October 31. While Blanchard did not preach, he did play a shofar during the church's worship set, then led the congregation in prayer. 
"God, we humble ourselves today under Your mighty hand. We ask you, Lord, to heal the land. God, as Your church, we claim this day as Your day," Blanchard prayed. "Let us be a witness. Let our testimony shine bright."
Blanchard later appeared onstage to present pastor appreciation gifts to members of his ministerial team. 
At the end of the service, Blanchard addressed the congregation in an altar call. Walking back onto stage, Blanchard said, "Can we praise the name of the Lord? Hallelujah! Who's in that secret place of God? Abiding in those heavenly places — the heavenly place at the right hand of God with Christ, in Christ, with Christ in you."
RELATED: Pastor of New Church in Florida Arrested During Trafficking Sting
"Even the principalities and the powers are beneath you when you're in Christ," Blanchard continued. "Every demon, every system of man, it's all beneath you, because your authority comes from Him, comes from the Lord, from the Master. He's so awesome."