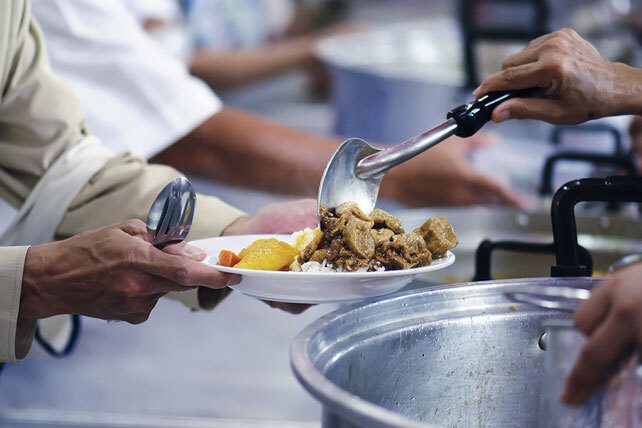 Bernie Lindley, pastor of St. Timothy's Episcopal Church in Brookings, OR, has vowed to continue providing meals for the unhoused members of the community, despite a new city ordinance that restricts the practice. 
St. Timothy's Episcopal Church has been offering meals to those in need six days a week in response to meal services being halted during the COVID-19 pandemic. Neighbors of the church raised safety concerns as many unhoused individuals have flocked to the church, resulting in a city ordinance that bars any organization from offering free meals more than twice a week, for no more than a duration of three hours per day. 
Rev. Lindley told CBN News that he and his church will refuse to comply with the ordinance. "They're going to have to handcuff me and take me to jail, which they won't do. So it's not going to happen. We're not going to stop feeding. We're going to do what Christ compels us to do," Lindley said.
At the beginning of the pandemic, St. Timothy's Episcopal Church obtained permits from the city to house individuals without homes in its parking lot, and Lindley suspects that this is what caused neighbors to grow concerned. 
RELATED: Churches Help Save Lives as Homeless Face Hazardous Winter Weather
"Some of the people who are emotionally fragile ended up having some psychotic breaks, manic episodes, stuff like that," Lindley said. "So definitely, things got pretty dramatic for a while."
Despite the challenges St. Timothy's benevolence has created and the pushback from the community, Lindley sees providing these meals as integral to the church's expression of faith, saying, "This is the way we express our religion, by feeding people."
Further, Lindley said that obeying this ordinance would "disrupt their ability to get warm, nutritious meals for sure," explaining that the meals that his church provides are the only meals some people eat. 
St. Timothy has begun exploring legal options to challenge the city ordinance, as they see it as a violation of their first amendment right to freely express their religion. 
RELATED: His Parish Was the Poor: The Rev. Tom Lumpkin Spent 40 Years Ministering to Detroit's Homeless
Defense attorney Andell Brown told Fox News, "This church is simply following the commission of who they claim to follow: Christ…They're Christians. [Jesus] fed the five thousand, and they're feeding as many as they can in their neighborhood."

"And it's very important to them as part of their faith to take care of the less fortunate. This is an expression of their first amendment right to worship as they choose according to their conscience. And they see a community in need. They're stepping up to help," Brown added. "I think this ordinance, as well intentioned as it may be, is flat out wrong, and it just may end up being unconstitutional."