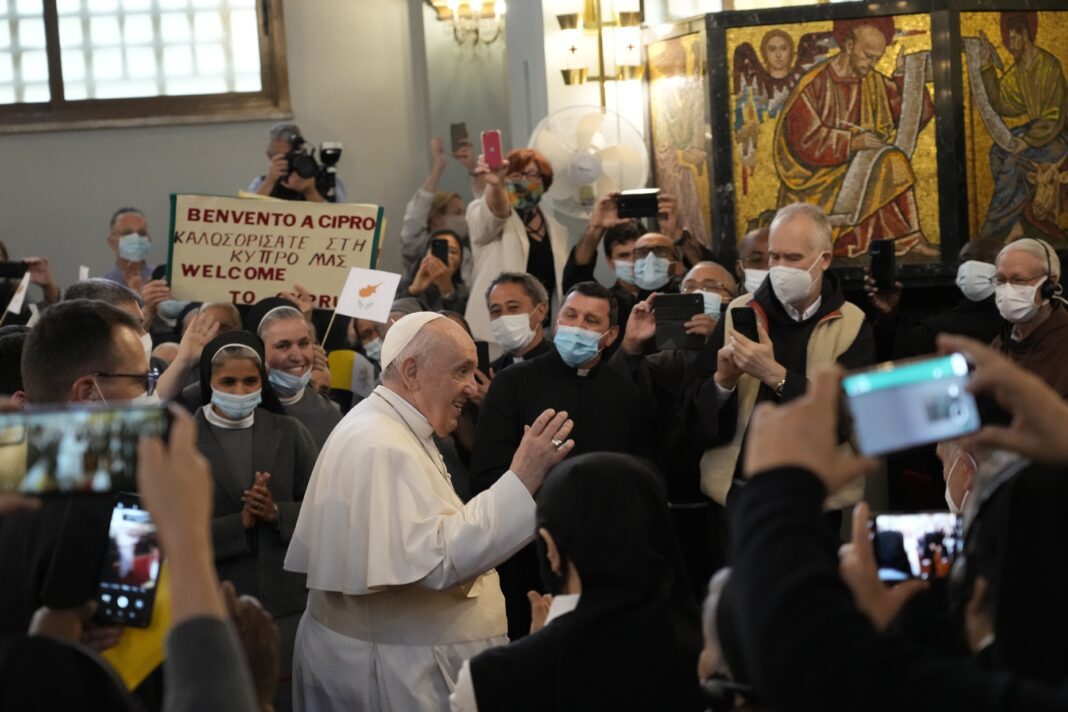 NICOSIA, Cyprus (AP) — Pope Francis on Thursday urged Greek Cypriots and the breakaway Turkish Cypriots to resume talks on reunifying the Mediterranean island nation, saying threats and shows of force were only prolonging the "terrible laceration" its people have endured for nearly a half-century.
A weary-looking Francis made the appeal as he arrived in the ethnically divided Cypriot capital at the start of a five-day visit that will also take him to Greece, a similarly Orthodox majority country on Europe's southeastern edge.
"Let us nurture hope by the power of gestures, rather than by gestures of power," Francis told Cypriot President Nicos Anastasiades and other government leaders.
Cyprus was split in 1974 when Turkey invaded following a coup by supporters of union with Greece. Only Turkey recognizes the Turkish Cypriot declaration of independence in the north, where Ankara maintains more than 35,000 troops.
Prospects for unifying the island have rarely been as bleak as they are now, after the Turkish Cypriots, under their newly elected leader Ersin Tatar, changed tack to demanded recognition of a separate state before any peace deal can even be discussed.
Previously both sides had agreed — with a United Nations Security Council endorsement — that any deal would be based on a two-zone federation of a Turkish Cypriot zone in the north and a Greek Cypriot one in the south, with one federal government regulating core ministries including defense and foreign affairs.
Acknowledging the stall in talks and the continuing suffering of Christians unable to return to their homes in the majority Muslim north, Francis encouraged an initiative of the island's Christian and Muslim faith leaders to promote reconciliation. He recalled that "times that seem least favorable, when dialogue languishes, can be the very times that prepare for peace."
In Nicosia, Francis immediately came face-to-face with the reality of the ethnically divided Cypriot capital.
Francis is staying in the Vatican nunciature, or embassy, which is located in the U.N.-controlled buffer zone that divides Cyprus.
Speaking to Anastasiades at the presidential palace, Francis said dialogue was the only way to reconciliation.
"There is a power of gestures which prepares the way of peace," he said. "Not gestures of power, threats of reprisal and shows of force, but gestures of détente and concrete steps toward dialogue."
The shows of force was a presumed reference to Turkey's saber-rattling in waters around Cyprus where undersea gas deposits have recently been discovered.
Turkey claims 40% of Cyprus' offshore exclusive economic zone as its own and those of the breakaway Turkish Cypriots, insisting that the Cypriot government's "unilateral" move to issue drilling licenses to energy companies like ExxonMobil, Italy's Eni and France's Total infringes on its own rights to the area's offshore wealth.