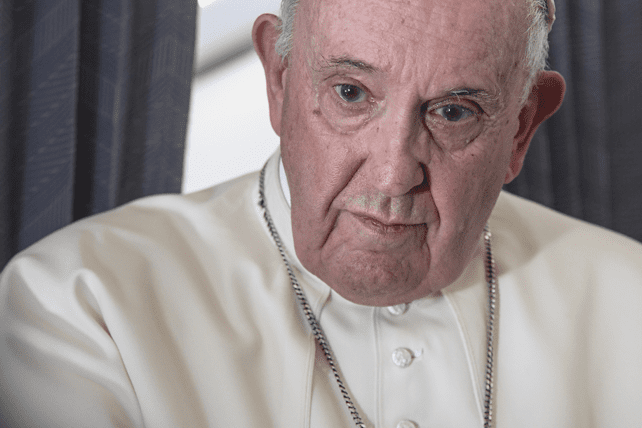 Yesterday, it was reported that a Catholic diocese in Michigan has instructed its clergy to deny sacraments such as baptism and communion to anyone who identifies as transgender unless they "repent."
This guidance to the Marquette clergy, which was signed by Marquette Bishop John F. Doerfler on July 29, is significant, as the diocese may be the first to make such a sweeping policy regarding gender identity, drawing a hard line against those who identify with a gender different from their biological sex. 
The report of this guidance comes on the heels of comments made earlier this week by Pope Francis, which seemed to indicate a softened approach to what Francis referred to as "sins of the flesh," saying that they "are not the most serious."  
Pope Francis: There Are Worse Sins Than Lust
According to New York Post, the Pope does not consider sex outside of marriage to be a greater offense than transgressions such as pride and hatred. Francis' comments came in response to the resignation of the Paris Archbishop Michel Aupetit for having an "ambiguous" relationship with a woman. 
"It was a failing against the sixth commandment (You shall not commit adultery) but not a total one, one of small caresses, a massage given to his secretary—that is what the accusation is," Francis said. "There is a sin there but not the worst kind."
Ultimately, Francis said that he accepted the archbishop's resignation due to "gossip." 
RELATED: Biden: Pope Called Me a 'Good Catholic,' Said to 'Keep Receiving Communion'
"We're all sinners. When the gossip grows and grows and removes someone's good name, he cannot govern," Francis said to the Associated Press. "This is an injustice."
The Pope added that he accepted Aupetit's resignation "not on the altar of truth but on the altar of hypocrisy." 
Aupetit has denied being sexually intimate with the woman in question. "If we do not know, we cannot condemn," said Francis, according to National Catholic Reporter. 
Diocese of Marquette, MI: No Sacraments for Transgender People
In contrast to the Pope's words—which seemed to indicate that he accepted Aupetit's resignation on the basis of his inability to effectively lead, rather than a sexual offense against his vow of celibacy—the recent guidance given by the Diocese of Marquette, MI conveys clear and stern language against LGBTQ inclusion. 
The document focuses specifically on those it identifies as having "same-sex attraction" and "gender dysphoria."