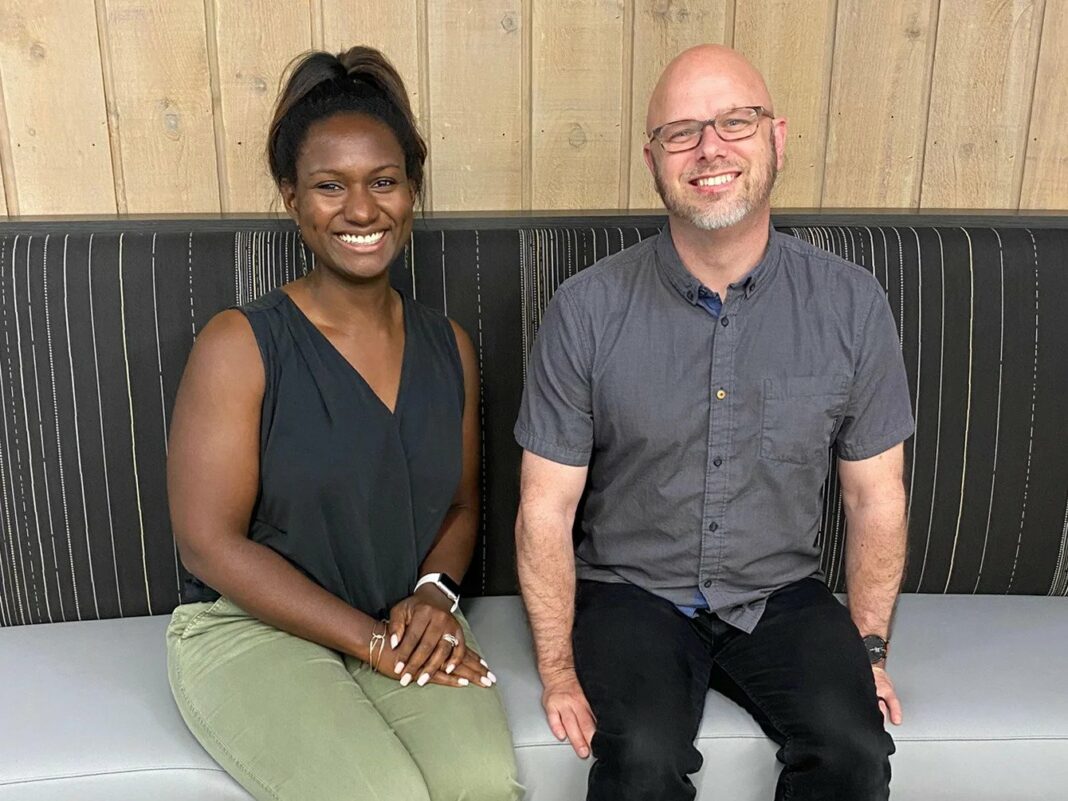 (RNS) — One of the biggest religion stories of 2021 has been the saga of the now-shuttered Mars Hill Church in Seattle and the downfall of its controversial celebrity pastor Mark Driscoll, detailed in a popular podcast that's been downloaded more than 13 million times.
A lesser-known but noteworthy story has been playing out at Mars Hill Bible Church in Grandville, Michigan. Once also led by a celebrity pastor, the church is charting a different course forward, moving from a leader-centric model and installing instead this past summer two co-pastors: Ashlee Eiland and Troy Hatfield.
Eiland, who is Black, and Hatfield, who is white, are the first co-pastors in the church's history, while Eiland is also the first woman to serve at Mars Hill as a senior pastor.
The two had been serving as part of an interim leadership team at the church since the departure of AJ Sherrill, the former senior pastor, in August 2020. Hatfield is a longtime staffer at Mars Hill, having joined the church as a worship leader in 2004 when it was one of the fastest-growing churches in the country under founding pastor Rob Bell. Eiland was called to the church in 2019 to launch a new campus of the church in nearby Grand Rapids.
For both, the role of senior leader came as a surprise. Eiland said in the churches she'd grown up in, women didn't serve in top leadership roles. Hatfield said he'd never aspired to be a senior pastor. But after serving together on an interim basis, they embraced the invitation from the Mars Hill elder board to become co-pastors.
"I was really inspired by the idea," said Eiland. "It felt well-discerned and prayed through — and we had the advantage of having done some co-leadership before."
Having co-pastors at a church or other congregation is rare. The 2012 National Congregations Study found 94.5% of congregations have one person serving as senior leader. The 2020 Faith Communities Today Study found that 5% of congregations have two or more clergy who share leadership equally. That study also found only 10% of congregations overall have a woman serving in a senior role. If a woman leader is referred to as a co-pastor, it is often because they are married to the senior pastor.
Eiland and Hatfield said they are still fine-tuning what it means to lead as co-pastors. For now, they split preaching duties, while each oversees one of the two locations where Mars Hill worships, with Eiland in Grand Rapids and Hatfield in Grandville. They also team up on bigger-picture planning for the church.
As co-pastors, the two have been charged with helping Mars Hill find its way forward — a task made more complicated by the ongoing COVID-19 pandemic. The church was founded in the late 1990s, using what's known as an attractional model of ministry, centered on Bell, a charismatic communicator who could draw huge crowds. By the time Hatfield had arrived on staff, the church had more than 10,000 people for weekend services.