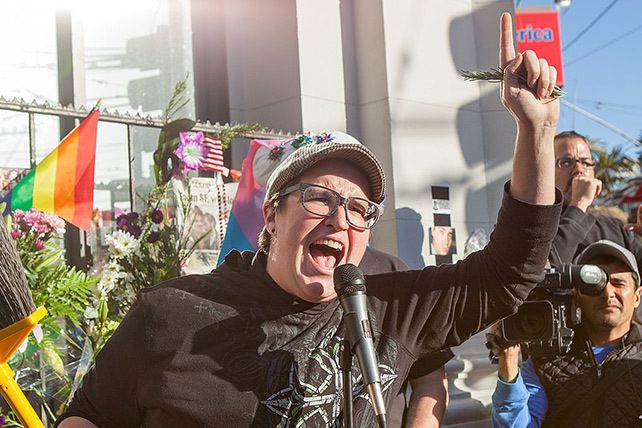 Megan Rohrer, the first openly trans minister to be ordained by the Evangelical Lutheran Church in America (ELCA), as well as the first trans minister to serve in the role of bishop, has been suspended by Extraordinary Lutheran Ministries (ELM), an LGBTQAI+ advocacy group that operates within the ELCA. Rohrer's suspension is the result of allegedly "racist words and actions."
Officially formed in 2007, ELM began as a movement to oppose an ELCA policy that required gay-identifying clergy to remain celibate in 1990. A key influencer in the ELCA's 2009 decision to allow partnered members of the LGBTQ community to serve as clergy, the advocacy group now provides "support to LGBTQIA+ people seeking to become rostered leaders in the Lutheran church."
In a statement, ELM said that Rohrer's suspension was in "response to an existing pattern of behavior from Bishop Rohrer that misaligns with ELM's Mission, Vision, and Values…specifically as it pertains to being an anti-racist organization."
As a result of Rohrer's suspension, ELM has asked Rohrer to remove all references to the ELM from their publications, biographies, articles, and reports. The ELM will no longer Rohrer include its sponsored events and will create a new trans affinity group on Facebook to replace groups that Rohrer had previously created or moderated. 
RELATED: ELCA Synod Elects Rev. Megan Rohrer as First Trans Bishop
In the statement, ELM did not specify Rohrer's allegedly racist offenses, but did say that the suspension was connected to "recent harm done by the Sierra Pacific Synod Council and Bishop Rohrer to the Latinx community in Stockton, CA." ELM explained that they had been mulling the suspension for much of 2021, leading to the creation of a formal accountability team and process.
"The Accountability Team has attempted to work with Bishop Rohrer to specifically address how the bishop's racist words and actions have harmed members of the ELM staff, board, and community. In September, Bishop Rohrer declined the Accountability Team's invitation for continued work to repair these relationships," the statement said. 
"It is not lost on us, as an organization advocating for queer inclusion in the church for 30+ years, that the election of a trans Bishop was a dream for some until now," the statement said. "Until recently, we have not had the explicit values or demonstrated capacity to facilitate an accountability process of this magnitude. ELM's articulated commitment to anti-racist action contains a spiritual mandate to address the dynamic of race within our own community."
The statement went on to explain that a refinement of the expressed values and accountability processes of the ELM led to "the choice to engage in a process meant to bring about right relationship and repair the harm that has been done intra-communally. Although Bishop Rohrer was the first person we have invited to this process, they will not be the last. Accountability is affixed as a pillar of ELM's pursuit of justice."
RELATED: The Reformed Church in America Faces Rupture Over LGBTQ Gridlock