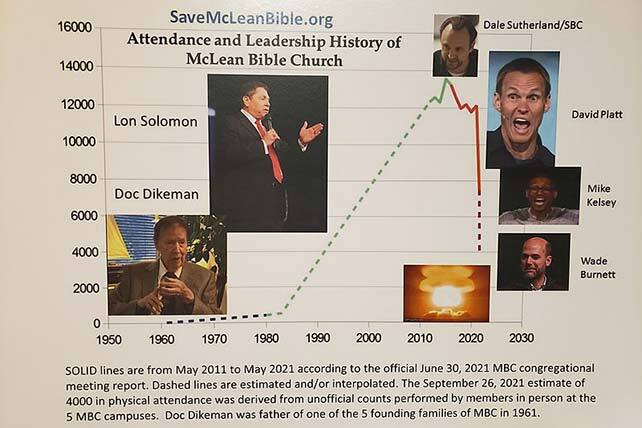 In July 2021, McLean Bible Church (MBC) in Vienna, Va., which is pastored by David Platt, was sued by five of its members (current and former) for allegedly barring them on illegal grounds in June of 2021 from voting in an important congregational meeting to approve new church leaders.
MBC's constitution says that elders must be approved by a three-quarters majority, but on June 30, 2021, the vote failed for the first time in the church's history.
Platt accused some MBC members of organizing a planned effort to thwart the election in a Sunday sermon, saying that a small group of people within MBC and some outside the church had "coordinated a divisive effort to use disinformation in order to persuade others to vote these men down as part of a broader effort to take control of this church."
The lawsuit also states that in addition to illegally barring them from voting in the July 18 members meeting to affirm the new elders, a second election that affirmed three new church elders violated McLean's constitution. The second election required MBC members to show identification, and ballots where labeled with the member's name. Inactive members were given provisional ballots. Any member who misses in-person services eight weeks in a row is placed on MBC's inactive member list, according to their constitution.
Due to the pandemic, it has been hard to know who has been in-person and who has had to watch online. MBC's leadership has been accused of disqualifying members who they thought would vote against the way leadership desired.
Current and former MBC members and plaintiffs Kevin Elwell, Steve Gaskins, Deborah Ash, Roland Smith, and Michael Manfredi hired attorney Rick Boyer to represent them and file their complaint against their home church.
Boyer told Religion News Service that although courts are usually reluctant to involve themselves in church disputes, Virginia law requires churches to follow the rules in the constitutions they put forth.
"The heart of the complaint really comes down to truth, transparency, and a free, open, and uncoerced process," Boyer said.
Lawsuit Allowed to Move Forward
On December 3, 2021, Fairfax Circuit Court Judge Thomas P. Mann rejected MBC's motion to dismiss the lawsuit, "arguing that the First Amendment bars courts from considering church disputes."
"While the defendants do scatter terms such as theology, prayerfulness, doctrine, specific books of the Bible and interpretation of the Scripture throughout its papers to put really what is a round dispute over the church constitution and adherence to that constitution into the square hole of the First Amendment," Mann said. "That is really what is happening here with this motion. Really per the complaint (the issue here) is whether the procedural requirements of the church's constitution were followed or whether there were shenanigans in order to produce a pretextual result."