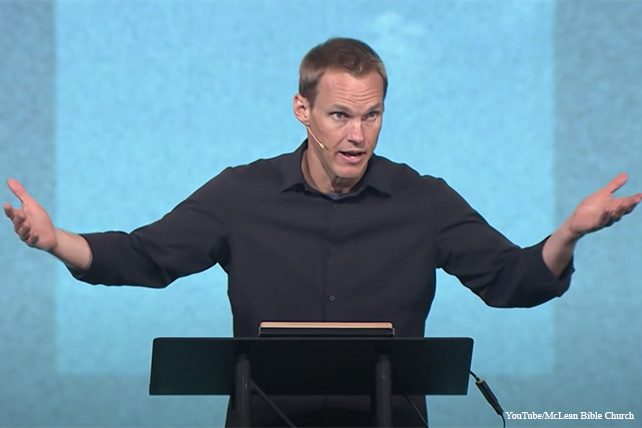 On June 30, 2021, McLean Bible Church (MBC) in Vienna, Virginia, held a members meeting to affirm three new elders via vote. MBC is pastored by former Southern Baptist's International Mission Board (IMB) president and bestselling author David Platt. At that time, the vote was too close to confirm the new elders because the Church's constitution states it must have at least a 75-percent affirmative majority to elect a new elder to the leadership team.
In his 4th of July sermon, Platt revealed to the 11,000-plus congregation that a disinformation campaign by a small group had been undertaken to persuade others to vote down the new elders and take control of the church.
Disinformation to Take Control of McLean Bible Church
Platt started his sermon directly addressing what he called a "dynamic" within the church family. Platt told the McLean congregation, "I don't think I have ever had to [address a church like this] or wanted to [address a church like this] in all my years as a pastor."
Platt continued: "I want you to listen closely to the words I'm about to say." He asserted that a small group of people within MBC and some outside the church had "coordinated a divisive effort to use disinformation in order to persuade others to vote these men down as part of a broader effort to take control of this church."
The group had used private church member information, according to Platt. He said the group somehow acquired "a membership list improperly accessed from our database" which it then used to "improperly" contact MBC members. The private information included names, addresses, phone numbers, and birth dates. Platt warned that the improperly acquired information could "cause real harm. All in an effort to keep these biblically qualified men from becoming elders and to try to take control of this church."
By contrast, all of McLean's other campuses showed almost unanimous favor for the new elders, except for the main Tysons campus where Platt preaches.
Some of the lies being propagated by the group included telling people in the lobby before the elder vote that leadership would sell the Tysons building if the new elders were affirmed, according to Platt. After the vote, leaders learned that many had voted against the prospective elders because they trusted the sources who lied to them. Those people requested to have their vote back after learning the truth.
Still other members shared with leadership that they had been told the building would be sold to Muslims so they could build a mosque and that MBC would give the proceeds to the Southern Baptist Convention (SBC).