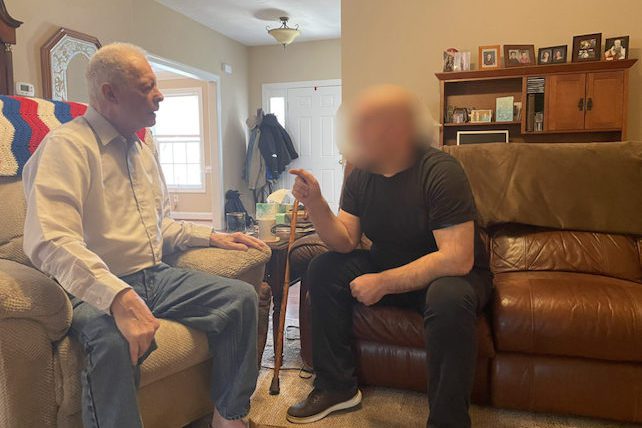 ROANOKE, Va. (BP) – While staying at her parents' house in Virginia, Cyndi Logsdon said she did not expect to receive encouragement from a surprise guest.
That unexpected guest came in the form of Eugen*, a Romanian man whom Cyndi's father led to faith in Christ 30 years ago on a mission trip.
Logsdon is the central director of church groups at McLean Bible Church in Vienna, Va. She, along with her siblings, has been staying with her parents in Roanoke, Va., as the children help their parents deal with some health challenges.
Cyndi's father, Paul Brown, went on a mission trip to Romania almost 30 years ago. Before going on the trip, Brown prayed earnestly that 10 people would come to know Christ as Savior while he was there ministering.
His prayer was answered when even more than 10 people came to know Christ as Savior while he was there, and Eugen was part of the answer to that prayer.
Logsdon said the two men kept in touch over the years by writing letters and eventually connected again on Facebook after briefly losing touch.
Last month, during his first ever visit to America, Eugen took a 10-hour train ride from New York City through the night to visit Brown and his family.
Logsdon said the visit, during which Eugen and the family simply talked for about an hour over refreshments, was emotional and "sweet."
"We all cried. It was just a beautiful testimony of the grace of God," she said. "It was an extremely tender and sweet time, and so often in life we don't get to see these things. Eugen said, 'I've waited 30 years just to say thank you for your investment in my life, and I wanted to thank you for your prayers.'"
While the emotional visit from Eugen was a surprise, Logsdon said a lasting ministry impact left by her father was not.
"In some ways it was not surprising, because my Dad shares the Gospel with people everywhere he goes, and he's been like that his entire life," Logsdon said.
"It's nothing new to see my Dad share the Gospel, but it was amazing to see someone 30 years later take two days just to say thanks. It meant the world to my Dad. I think the phrase he used was 'this is the best day of my year.'"