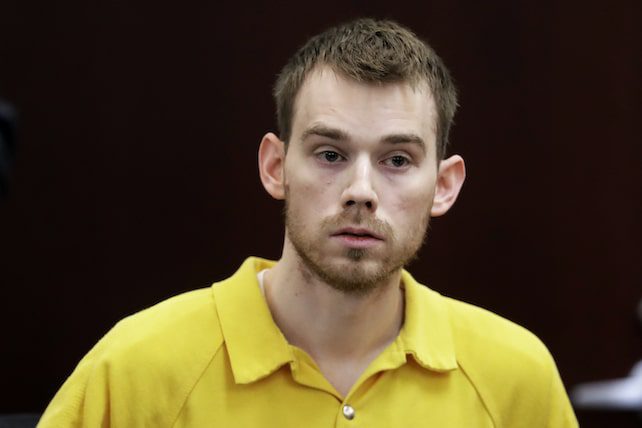 NASHVILLE, Tenn. (AP) — Attorneys for a man who killed four people in a shooting at a Nashville Waffle House said Monday that Travis Reinking believed the restaurant patrons and employees were government agents whom he had been commanded by God to kill.
Reinking, 32, was naked save for a green jacket when he opened fire inside the restaurant on April 22, 2018. He fled, triggering a two-day manhunt, after restaurant patron James Shaw Jr. wrestled his assault-style rifle away from him.
Shaw testified Monday that he noticed Reinking sitting in a truck before he entered the restaurant, and his friend joked that Reinking looked crazy and would "shoot up the place."
"His energy wasn't right. I could just feel it," Shaw testified. Reinking shot two people outside before entering the restaurant and continuing to shoot. When he stopped to reload, Shaw rushed him, grabbing the barrel of the gun. It burned his hand, but he held on until he had possession of the weapon and threw it over the counter.
Asked whether he could identify the shooter in court, Shaw looked at Reinking and said, "He's giving me the same look he did that night. He looked like he didn't care."
In opening statements, defense attorney Luke Evans said Reinking was suffering from severe schizophrenia that had grown worse over a period of years.
"Mr. Reinking was driven by delusions, paranoid thinking and auditory illusions," he said. That included the belief that he was Taylor Swift's boyfriend and the star was stalking him, had broken into his house and sexually assaulted him.
He had moved several times to try to leave the persecution behind, Evans said. By the time he moved to Nashville a couple of months before the shooting, he was "completely untethered from reality."
"He believed he was communicating directly with God," Evans said of Reinking. "He believed regular people walking around were out to hurt him and had been hurting him. Mr. Reinking believed he was commanded by God to go to the Waffle House in defense of himself and other people. The people at Waffle House were, in his mind, government agents."
Reinking is charged with first-degree murder in the shooting deaths of Taurean C. Sanderlin, 29; Joe R. Perez, 20; Akilah Dasilva, 23; and DeEbony Groves, 21. He also faces several counts of attempted first-degree murder.
On Monday, Reinking pleaded not guilty by reason of insanity. That means he must prove not only that he was suffering from a severe mental illness but also that the mental illness made him unable to appreciate the wrongness of his actions.