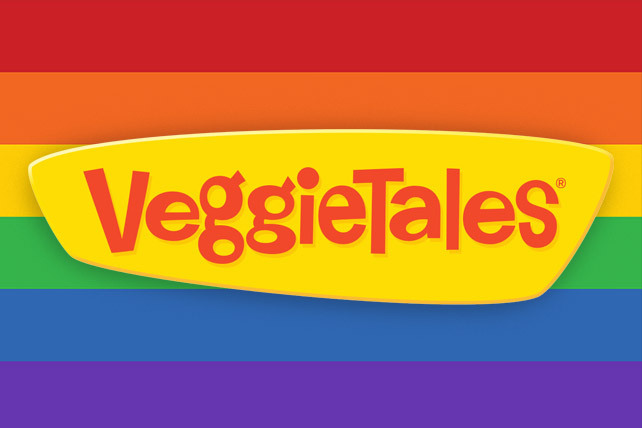 VeggieTales creator Phil Vischer has responded to a question about the sexual orientation of Bob the Tomato and Larry the Cucumber, two characters he created for the Christian children's show, the former of which he voiced himself. 
In a tweet that appears to have been deleted, Twitter user Quinn Smith said, "@philvischer was in Milwaukee at a @relientK concert, and @gracebaldridge suggested that Bob & Larry are gay, can you confirm?" 
Vischer replied to Smith's tweet with one word: "Nope." From his response, it is unclear whether Vischer was denying that the VeggieTales characters are gay, or if he was simply saying that he couldn't publicly confirm the theory.  
Either way, queer Christian musical artist Grace Baldridge, who goes by the stage name Semler, was not satisfied with Vischer's answer. Tweeting a screenshot of the interaction between Smith and Vischer, Semler said, "LET THE CARTOON VEGETABLES BE GAY PHIL."
Semler is currently on tour with Christian band Relient K. 
RELATED: LGBTQ Artist Semler Hits #1 on the iTunes Christian Charts for the Second Time This Year
This isn't the first time Semler has called on another Christian public figure to express affirmation for the LGBTQ community. In September of last year, Semler chronicled her journey to see where Christian band Switchfoot stood on LGBTQ inclusion in a series of TikTok videos. 
Speaking about why this question was of such personal importance, Semler said, "In Christian spaces, Switchfoot's music was the safe music. [Switchfoot Frontman] Jon Foreman was like that message of safety…then you learn about the bait-and-switch, and for so many of us it was like 'Jon wouldn't do that,' because he was such a leader. The Christian community is so disproportionately harmful to LGBTQ+ people, so you can't just be like lukewarm on it."
Though Semler wasn't able to get Foreman's attention while he was onstage at a concert, Foreman later replied to Semler's question with a TikTok video of his own. 
"Yes, I support your rights to freedoms. I want you to feel loved and supported. I want you to feel treasured and valued and seen. I want all love and joy and beauty and truth for you," Foreman said in the video. "We need our differences. I am so glad that you were there last night. In fact, it breaks my heart to think that you would not be accepted. Let me correct that. You and your journey and your story are welcome at a Switchfoot show."
While Foreman made further comments about holding space for differing views, leaving some ambiguity as to whether he believes homosexuality is sinful, Semler interpreted his response as affirming.