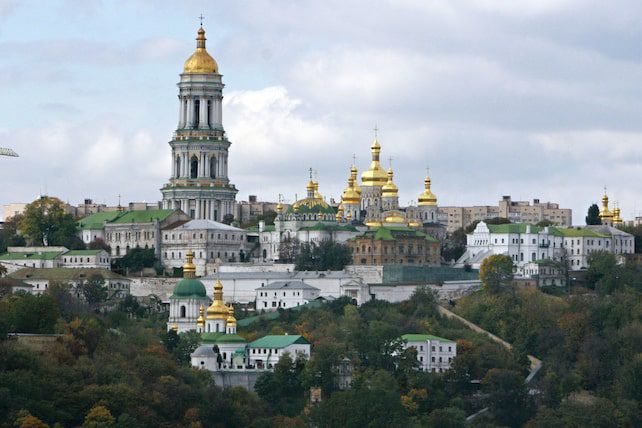 Kyiv, bracing for a potentially catastrophic Russian attack, is the spiritual heart of Ukraine.
Among the sites at risk in the Ukrainian capital are the nation's most sacred Orthodox shrines, dating back nearly 1,000 years to the dawn of Christianity in the region.
The sites, along with other landmark shrines in Kyiv, are religiously significant to both Ukrainian Orthodox and Russian Orthodox. They also stand as powerful symbols in the quarrel over whether the two groups are parts of a single people — as Russian President Vladimir Putin has claimed — or are distinct but related Slavic nations.
The landmarks include the golden domed St. Sophia's Cathedral and the Kyiv-Pechersk Lavra, a sprawling underground and above-ground complex also known as the Monastery of the Caves. Others include the multi-towered St. Michael's Golden-Domed Monastery and St. Andrew's Church.
On Tuesday, Ukrainian officials said Russian forces damaged another monument — Ukraine's main Holocaust memorial, Babi Yar — prompting international condemnation.
"What will be next if even Babi Yar (is hit)" asked Ukrainian President Volodymyr Zelenskyy on Wednesday. "What other 'military' objects, 'NATO bases' are threatening Russia? St. Sophia's Cathedral, Lavra, Andrew's Church?"
There is no indication the Russians intentionally targeted Babi Yar. Nor is there any confirmation that the Russians plan to target any of the sacred sites in Kyiv. But civilian buildings have already been hit in other cities, and Kyiv's major shrines sit in elevated locations that could leave them especially vulnerable.
Case in point: The Assumption Cathedral in Kharkiv, Ukraine's second-largest city, was damaged in the recent attacks, reportedly with stained-glass windows broken and other decorations damaged. The cathedral, which is under the Moscow-affiliated Orthodox church, was Kharkiv's tallest building until sometime in the 21st century.
The risk is even greater in Kyiv.
"We're talking about a very old city," said Jacob Lassin, a postdoctoral research scholar at the Arizona State University's Melikian Center for Russian, Eurasian, and East European Studies. "The center part is densely packed. Even if you're trying to hit one thing, you could easily hit something else."
The symbolic value of the shrines is powerful even to people who don't share the religious faith they commemorate.
"The idea that the main symbol that stood in your city for 1,000 years could be at risk or could be destroyed is very frightening," Lassin said.
The symbols matter not only to the Ukrainian people but to Putin, too. He justified the invasion with baseless claims he was countering "neo-Nazism" in Ukraine — this in a country with a Jewish president.