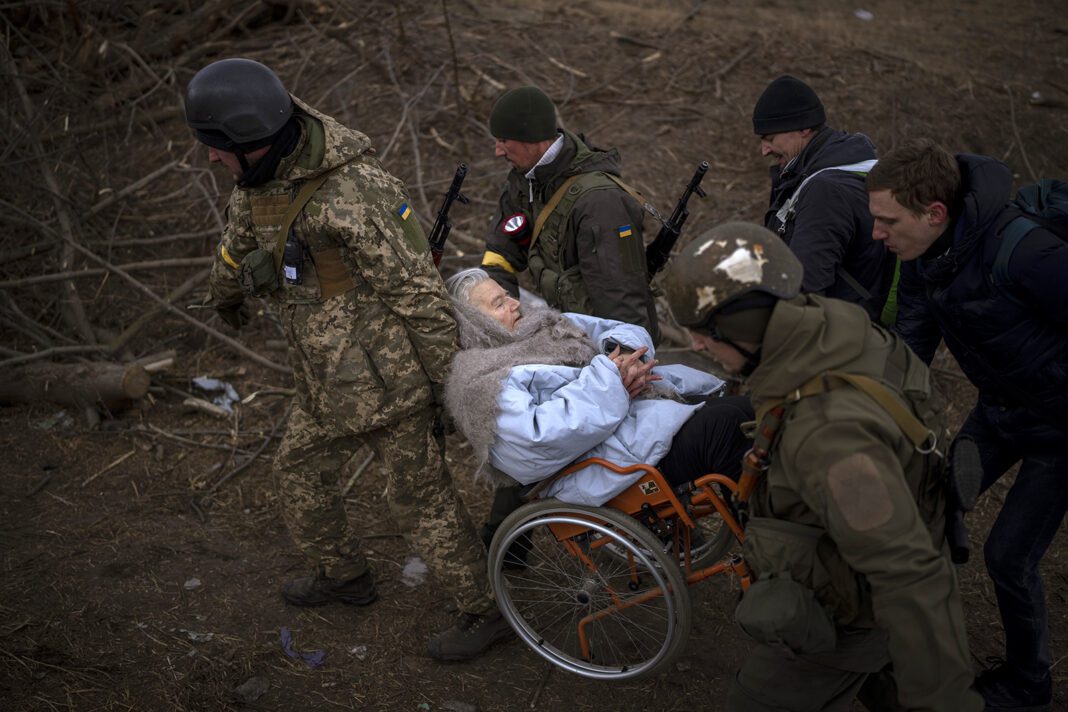 VATICAN CITY (RNS) — Stepping up his already concerted efforts to secure peace in Ukraine, Pope Francis will deploy two of his most trusted Vatican officials, both cardinals, to go to Ukraine to seek an end to the conflict and to advocate for immigrants and refugees and foster relations with local churches.
In what the Vatican called "an extraordinary gesture," Cardinal Konrad Krajewski and Cardinal Michael Czerny will go to the war zone. Czerny is the ad interim prefect of the Vatican Department for Promoting Integral Human Development. Krajewski holds the title of papal almoner, officially charged with performing acts of mercy on behalf of the pope.
"The Holy See has put itself at the service of achieving peace in Ukraine," the Vatican said in a statement issued on Monday (March 7), adding that the two cardinals "are directed to Ukraine and depending on the situation they intend to reach the country in the coming days."
Czerny will go to Hungary on Tuesday (March 8) to assist migrants entering the country from neighboring Ukraine. According to the Vatican statement, the cardinal will raise awareness for other conflicts currently taking place around the world and "raise concern that African and Asian residents in Ukraine, also suffering fear and displacement, be allowed to seek refuge without discrimination."
Recent media reports showed that some African and South Asian citizens seeking to flee Ukraine were met with hostility by Ukrainian officers at the border and were not allowed to board the trains, which gave priority to white refugees.
"There are also worrisome reports of increasing activities of human trafficking and smuggling of migrants at the borders and in the neighboring countries," the statement read, adding that since many refugees are Christians, Czerny "will affirm that religious assistance should be offered to everyone, with sensitivity to ecumenical and interfaith differences."
Krajewski will go to Poland, where he will focus on helping migrants and volunteers at the border until he can find safe passage into Ukraine itself. The objective is "to reach people who are suffering," Krajewski told Vatican news outlets, in the name of the pope, and to "tell them that he loves them, (and) pray with them, because prayer is even capable of stopping war," Krajewski told Vatican news outlets.
The pope's decision to send two high-ranking Vatican officials so closely tied to Francis can be interpreted as a definitive commitment by the Holy See to help mediate the Russian-Ukrainian conflict, which every day risks drifting further away from a peaceful resolution.
"The Holy See is ready to do everything, to put itself at the service of this peace," Francis said during his weekly prayer service on Sunday (March 6). "The presence of the two cardinals there is the presence not only of the pope, but of all the Christian people who want to get closer and say: 'War is madness! Stop, please! Look at this cruelty!'"
The pope lamented that "rivers of blood and tears are flowing in Ukraine" and said that the current conflict is "not merely a military operation, but a war, which sows death, destruction and misery."