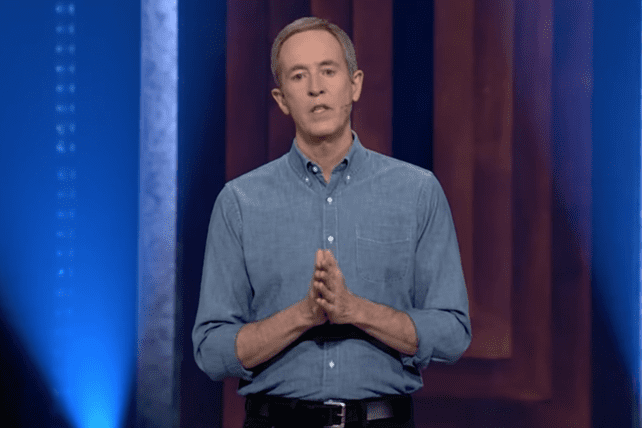 Pastor and author Andy Stanley came under fire on social media this week for a now deleted tweet, which argued that the Christian faith rises and falls on the person of Jesus rather than the accuracy of the Bible. 
"The Christian faith does not rise and fall on the accuracy of 66 ancient documents," the tweet said. "It rises and falls on the identity of a single individual: Jesus of Nazareth."
The tweet was a quote taken from a message that Stanley delivered at North Point Community Church in Alpharetta, GA, where he serves as senior pastor. Stanley linked to a video of the full message in the tweet thread. 
"Here is what might be an uncomfortable question for some of us, and an interesting and maybe even helpful and surprisingly honest question for others of us," Stanley can be seen saying at the beginning of the recorded message. "When it comes to knowing if there is a God, and if there is a God, what God is like, and when it comes to trying to figure out who God likes, does it really come down to, 'The Bible tells us so'? Or any other religious literature 'tells us so'?"
RELATED: Andy Stanley: 'You can't be right with God if you are not right with people'
Taking on the perspective of a skeptic, Stanley then expressed all the doubts that people have about the reliability of the Bible, saying that he understands why so many are deconstructing or thinking about leaving the faith. 
"If the Christian faith balances precariously on the edge of ancient declarations of superstitious men, well, then why not," Stanley said. 
"The truth is, Christians are not expected to believe what we believe based on a collection of ancient manuscripts written by men, who never met each other, over the course of hundreds of years, in a time when everybody was superstitious and everybody believed in the gods and there was no modern science," Stanley said. "The foundation of our faith is far more substantial than that. It's far more sustainable than that."
"[The Christian faith] rises and falls on the identity of a single individual: Jesus of Nazareth," Stanley said, going on to argue that those seeking or questioning faith often wrestle with the wrong questions. "The question to wrestle with is not 'Is there a God?' or 'Is the Bible true?' In fact…those are generally off ramps to faith, not on ramps to faith."
"This is the issue; this is the question when it comes to Christianity: is Matthew—the gospel of Matthew—Mark, Luke, or John—any one of the four—a reliable account of actual events? Because if any one of these four is a reliable account of actual events, then what they say about Jesus is true," Stanley went on to argue. "And if what they say about Jesus of Nazareth is true, game on; faith on. You should press on. You should lean in." 
RELATED: Andy Stanley: Why I Stopped Saying 'The Bible Says' When I Preach
"The story of Jesus is not a Bible story," Stanley said. "The story of Jesus, or the narrative, or the life of Jesus, is why there is a Bible. Jesus is the reason for the Bible."