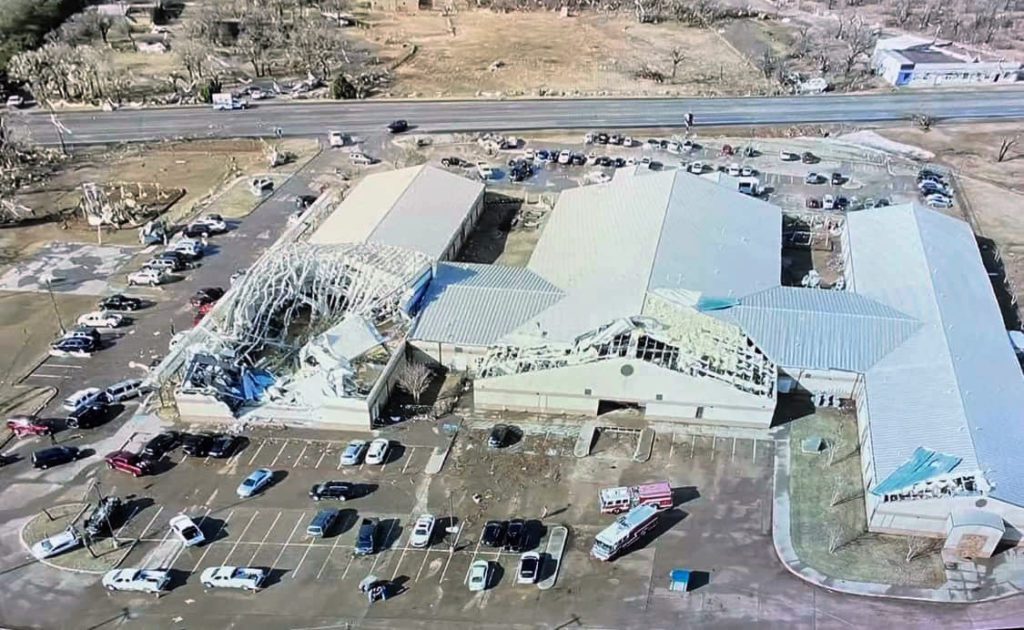 JACKSBORO, Texas (BP) – Southern Baptist Disaster Relief assessment is currently taking place in several areas after tornadoes struck both rural and urban settings in the South, leaving two dead.
Northwest of Fort Worth, an EF-3 tornado caused heavy damage in the town of Jacksboro, Texas, including to the high school and elementary schools. No students were hurt, but Scottie Stice, Disaster Relief director for the Southern Baptists of Texas Convention, said a shower unit was to arrive in the town Wednesday (March 23), and a recovery unit had been activated. Live Oak Baptist Church will serve as the staging area.
Damage and needs are being ascertained in Round Rock, Elgin, Hutto, Taylor and the Texoma area, he added. In Gilmer, New Beginnings Baptist Church is hosting assessors and serving as a command post for recovery, shower units, generators and a bunk house. A shower unit has been requested by emergency management in Oregon City.
Texas Baptist Men of the Baptist General Convention of Texas deployed units to Jacksboro and Taylor this morning, with a team also serving in Gilmer, reported director David Wells in a Facebook post. Those responses come on the heels of assisting with wildfires near Eastland, which were put out by the storms.
Stan Statham, director for Louisiana Baptist Disaster Relief, told Baptist Press that only one request for help came after a tornado struck Arabi, located in the east metro area of New Orleans. Celebration Church has requested supplies to feed those impacted, he said.
As for further dispatches, "We'll know more by the end of the day," he said.
Several tornadoes were reported around the Jackson, Miss., area, but most stayed in the air, said Mississippi Baptist coordinator Hubert Yates. Those that did touch down caused minor structural damage that resulted in no calls for Disaster Relief help.
Sam Porter, Send Relief national director for Disaster Relief, said the size of the storm system will require attention as it continues through the upper Midwest and Northeast.
"I'm proud of how Disaster Relief has responded so quickly," he said. "They're out there connecting with churches and Baptist associations, making a huge difference."
This article originally appeared here.