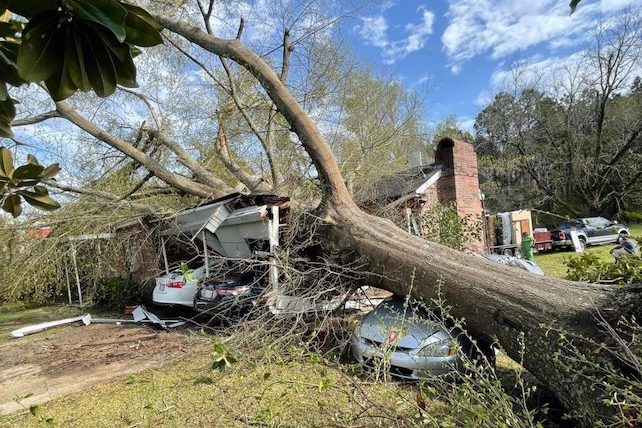 NASHVILLE (BP) – Several Southern Baptist Disaster Relief units were called in to respond as a series of storms swept through the south central and southeastern United States.
Oklahoma Disaster Relief teams completed their work Thursday (March 31), reported Director Don Williams, following damage from a March 21 EF2 tornado.
"In our response, we helped 40 homeowners with property damage," he told The Baptist Messenger. "We provided Madill [and] Little City with about 500 meals to feed their community. We made 200-plus chaplain contacts. Because of the generosity of Oklahoma Baptists, we provided financial assistance to Kingston, Texoma Southern; Madill, Little City; and six church members that will aid them in paying their insurance deductibles to move forward."
More than 40 homeowners felt the storm's effects, with as many Oklahoma churches represented by the resulting Disaster Relief response.
Arkansas Disaster Relief is still responding to needs from a March 30 EF3 tornado in the northwest part of the state, the Arkansas Baptist News reported.
Parts of Fayetteville and Springdale bore the brunt, with the Northwest Baptist Association's Recovery unit mobilizing volunteers soon after the early morning storms. Volunteers from Grand Avenue Baptist in Fort Smith joined in the recovery efforts as did units from Balboa Baptist Church in Hot Springs Village.
Cross Church in Springdale is serving as a coordination site and hosting the Incident Management Team, ABN said.
A series of strong storms across central and north Alabama March 29 damaged at least three church buildings, the Alabama Baptist reported, but brought no deaths.
The damage to the side of Pine View Baptist Church in Brent should be a quick fix, said Pastor Mark Lovett.
Mark Wakefield, disaster relief and chaplaincy ministries strategist for the Alabama Baptist State Board of Missions, said cleanup and recovery efforts are being handled on the local level.
A close call with a tornado still fresh in the memory of Scott Peters, pastor of Bethel Baptist Church in Bibb County, left him anxious throughout the night.
"This time last year, a tornado came very close to the church," Peters said. "As it passed the church, it lifted and turned, missing the church. … It was very close."